10. FC Dallas – Schellas Hyndman's men had the weekend off to gird themselves for the coming scheduling storm. It starts this weekend in San Jose, where anything less than a win might just choke away the last heaves of playoff life. Blas Perez has to find his scoring shoes. And fast.
9. Houston Dynamo – The schedule is now in Houston's favor, with three of four matches remaining inside BBVA Compass Stadium, where the Orange has yet to lose. The gauntlet has been dropped by manager Dominic Kinnear. So, here it is: take care of business and they'll make the playoffs. Keep stumbling around and, well, it will be a long, tough off-season in South Texas.
8. D.C. United – Lament the oh-so-close calls if you like, DCU fans. But I say this: minus your top man (Dwayne De Rosario), 1-0 results over Philadelphia on the road and Chivas USA at home represents "job done." It's not going to be about style for a club seeking its first playoff appearance since 2007. Now come the tougher tests, with three of four on the road, where United has been notoriously less successful this year.
7. Real Salt Lake – Javier Morales was a man on mission as the home team ran roughshod early over Portland. But some faulty choices near Timbers goal kept RSL from finishing off the visitors, who got back in the game but eventually fell, 2-1. All in all, it was a good week, with victory in MLS and in CONCACAF Champions League. Plus Alvaro Saborio's injury doesn't appear as severe as initially expected.
6. New York Red Bulls – Sudden thought: if Rafa Marquez were ever to leave New York, somewhere between 10-15 percent of the posts on this blog would disappear! That's just a rough guess. … Thierry Henry is back this week after a one-game suspension-lite. Last week's 2-0 loss at home to Sporting Kansas City was a setback, although the response wasn't awful in a subsequent 1-1 draw at New England.
(MORE: Trying to untangle the Rafa Marquez conundrum)
5. Chicago Fire – Chris Rolfe keeps turning up Team MVP performances. We haven't heard league MVP talk just yet; probably a bridge too far. Plenty of others had good nights in a 2-1 win over Columbus, including Sherjill MacDonald, Patrick Nyarko, Alex, Austin Berry and Arne Friedrich. Even goalkeeper Sean Johnson did fine – after that one silly, sloppy pass, that is.
(MORE: Chris Rolfe earns PST Player of the Week)
4. Seattle Sounders – Things got a little glum around Century-Link following last week's loss at home to San Jose. Our advice: get over it quickly, because there's work ahead. And not just playoff positioning work, either. Saturday brings a trip to Vancouver and opportunity to put hands on that Cascadia Cup. (Plus, how awesome would it be for Sounders fans to watch their club put a crimp in the Whitecaps' playoff ambition?)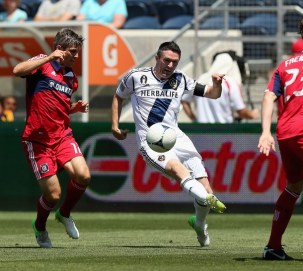 3. Angeles Galaxy – The latest win, 4-2 over Toronto, was a playoff clincher – even if Bruce Arena lamented the lack of a "complete match." Next target, keep the party going and ensure they aren't in that early 4th-5th playoff match. And it probably wouldn't be a terrible idea to get Robbie Keane (pictured) a little rest somewhere along the way.
2. Sporting Kansas City – Every team this side of the fabled Cosmos (old school Cosmos, that is) will take four points from a possible six in two road matches spread just three days apart. So, well done, ye cats from SKC. Peter Vermes' team is a stellar 5-0-3 in MLS since July. This week they can take a giant stride toward the MLS East crown with a win Friday over visiting (and second place) Chicago. That's a biggie, and it's on NBC Sports Network.
1. San Jose Earthquakes – Chris Wondolowski has shaken the summer slumber, scoring three times last week as San Jose put more valuable distance on the field. They almost got caught in a trap game but survived with a 2-2 draw against visiting Portland. Apparently, they were saving it all for the first half of the big visit to Seattle, where Wondolowski's early goal led the way in a massive 2-1 win. Up this week (as "Wondo for MVP" talk gets new life) is FC Dallas at home.