Here's why bad management just crushes a team:
Attendance is generally a pleasant tale these days in MLS, where the gate isn't always great, but it tends to be pretty good.
For instance, Major League Soccer attendance passed the 5 million mark for 2012 last weekend. That's not going to scare Major League Baseball, of course, but it's a happy place for a league where growth keeps chugging along.
Individually, too, it was a good weekend for MLS club. Most clubs, at any rate.
Here are the numbers for weekend matches in Round 29.
Seattle Sounders: 38,948
Los Angeles Galaxy: 27,000
New England Revolution: 24,364
Real Salt Lake: 20,524
Montreal Impact: 20,521
Chicago Fire: 19,172
Vancouver Whitecaps: 18,992
Philadelphia Union: 17,666
Those are all reasonable figures, which included four sellouts and a season-high in New England. But then there's one more: D.C. United, which had a huge match against Chivas USA.  On a Sunday evening as the playoffs approached, a match that once would have drawn perhaps 18,000 to RFK attracted just 11,770.
That's what happens when a club cannot get it together; United has not made the playoffs since 2007, an awful reminder of how this club's management has bungled matters in a league where, statistically, it has always been easier to make the playoffs than to miss.
But this isn't just about D.C. United. Take a look at the league's current attendance report (which, curiously, is listed alphabetically rather than according to leaders as other categories are):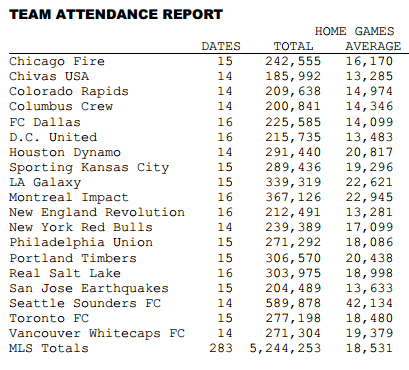 What you see are four clubs drawing fewer than 14,000 a game. No, the slowpokes of this herd aren't the usual suspects, the notoriously under-achieving markets like Colorado, Columbus, Dallas, Kansas City, etc. (Yes, yes, I know SKC is an attendance winner now … )
The three bottom clubs include two teams that were always seen as "strong" markets: New England and D.C. United, along with Chivas USA. (The other sub-14,000 average belongs to San Jose, where capacity is listed at 10,500 but matches played elsewhere elevates the number.)
Conclusion: Yes, market factors do speak loudly in crowd counts and brand presence in a given city. But so does performance, in front office marketing and in competitive matters.
Speaking of which:
Toronto, perpetually in the ditch in competitive matters, is clearly suffering. The numbers still look good – but who are we kidding? We see the matches and the gaping swatches of red in the BMO Field stands, compelling evidence that fans have turned increasingly apathetic.
A lively market can clearly sour. The difference, of course, is that favorable market factors make it easier to rally the gate counts once competitive breath is found.
Probably, anyway. I suppose we'll know eventually.