Soccer birthdays:
Just what is Michael Ballack doing right now? Would somebody go find that guy and tell him to put the golf clubs back in the trunk of his Mercedes or whatever, put the doggone boots back on and get into an MLS camp in January! Please!
How good would that guy look pulling the strings in a holding/distributing role right now for … well, for about half the Major League Soccer clubs? He's not that old. In fact, Ballack turns 36 on Wednesday.
Portuguese international Ricardo Andrade Quaresma, formerly of Barcelona and Inter (well, he had a shot of espresso with Chelsea, too) turns 29 today.
Big Important Stories of the Day:
"So you're telling me there's a chance. Yeah!"
As in the noted line from Dumb and Dumber … it's not a great chance. But, I'm telling you this morning, there's still a chance that Toronto FC could advance in Champions League elimination play next year. Whatever sliver exists is because Chivas defeated El Savador's CD Aguila in a group stage match last night in Central America.
Paul Mariner's team still has to climb a fairly big mountain and beat Santos Laguna down in Mexico. But there, you know … there's a chance.
RASNoD (Random American Soccer Name of the Day): Troy Dayak
Twitter daps: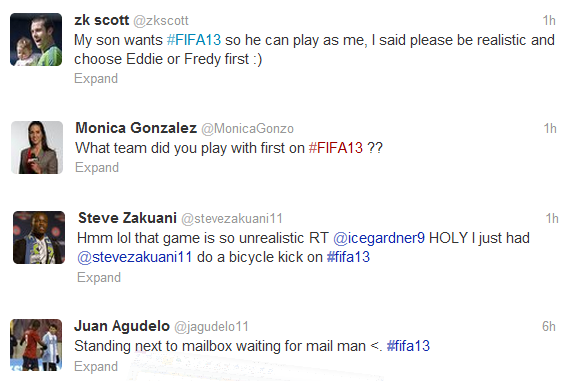 What you should watch on TV today:
VfB Stuttgart meets Hoffenheim, which features U.S. internationals Fabian Johnson and Danny Williams, at 2 p.m. ET on GolTV.
Manchester United meets Newcastle in the Capital One Cup (2:40 p.m.) on beIN Sport.
If the MLS playoffs started today (following 28 rounds):
Eastern Conference
(Wildcard round)
(Second round)
Sporting Kansas City vs. Wildcard winner
Chicago vs. New York Red Bulls
Western Conference:
(Wildcard round)
Seattle vs. Vancouver Whitecaps
(Second Round)
San Jose vs. Wildcard winner
Real Salt Lake vs. L.A. Galaxy
PST background noise while blogging today: Soccer podcast catch-up day. That means MLS Extra Time. March to the Match. Men in Blazers, perhaps. And who knows what else might be out there, pod-wise?
We'll leave you with this: Even if you think the Red Bulls are better with Rafa Marquez than without him, now we have to talk about this: He's injured again. Which means they'll go into the final couple of matches in the 2012 season having had their $4.6 million man available for just 11 matches? Is that enough for the cash outlay (no matter how many Red Bulls shirts they might sell in Mexico?)