Soccer birthdays:
One of the game's truly mercurial figures, Zlatan Ibrahimović, turns 31 today. He is also the only player to score in Champions League for six different clubs (Ajax, Juventus, Inter Milan, Barcelona, AC Milan and Paris Saint-Germain).
Former Canadian international and current University of Texas soccer coach Angela Kelly turns 41.
Big Important Stories of the Day:
This "Match Day" thing is always a bit confusing, isn't it? Because yesterday was Champions League Match Day 2. Which makes today … uh, Champions League Match Day 2 ½ I suppose. At any rate, the other eight group play matches of UEFA greatness are set for today.
Of course, the big talkers will be the matches out of Group D, where Real Madrid plays at Ajax and Dortmund visits Manchester City.
Closer to our shores, two MLS matches come attached to those playoff implications that we all love so much at this time of year. In both cases, the home team faces a side already eliminated from post-season action, so they will see this as chance to fully exploit. Chicago hosts Philadelphia and Vancouver hosts Chivas USA.
RASNoD (Random American Soccer Name of the Day):Tracey Leone (Tracey Bates)
Twitter daps: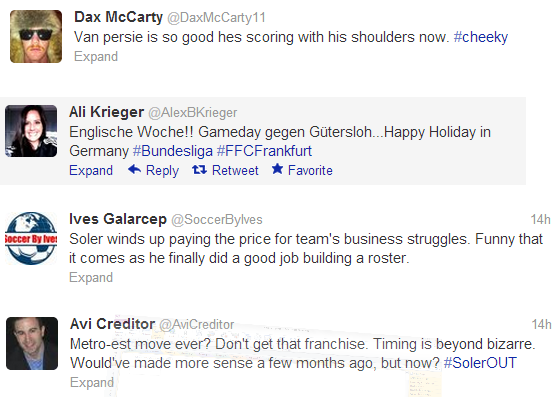 What you should watch on TV today:
Featured Champions League matches on Fox Soccer Channel are:
Zenit St. Petersburg-AC Milan at noon ET
Manchester City-Borussia Dortmund at 2 p.m. ET
Arsenal-Olympiacos at 5 p.m. ET (delay)
Ajax-Real Madrid at 7 p.m. ET (delay)
*Ahead on the blog today: We'll dig into yesterday's big MLS news: Erik Soler being replaced as sporting director for the New York Red Bulls.
Former AS Monaco president Jérôme de Bontin will serve as New York's general manager in a position overseen by former France and Liverpool manager Gérard Houllier, who now serves as head of global soccer for Red Bull.
(We'll scour the earth to find someone for whom this move – and the timing – makes a bit of sense. We are not optimistic.)
If the MLS playoffs started today (following 28 rounds):
Eastern Conference
(Wildcard round)
(Second round)
Sporting Kansas City vs. Wildcard winner
Chicago vs. New York Red Bulls
Western Conference:
(Wildcard round)
Vancouver Whitecaps at Seattle
(Second Round)
San Jose vs. Wildcard winner
Real Salt Lake vs. L.A. Galaxy
PST background noise while blogging today: Scanning for BBC and podcast bits on Champions League.
We'll leave you with this: Yesterday I watched (live or same-day delayed) high-quality soccer from Russia, Romania, Norway and Portugal. Today we get the top shelf stuff from Russia, England and the Netherlands. TV and technology in the modern age is absolutely, positively awesome.
It wasn't all that long ago that we all had to wait until the next morning and check out the Champions League scores in the newspaper.