Soccer birthdays:
Mark Viduka anyone? The Aussie international had a pretty decent career. Not spectacular, but pretty darn respectable, with some good years ago Celtic, Leeds, Middlesbrough  and Newcastle. Viduka turns 37 on Tuesday.
Longtime Honduran international Carlos Pavon, who changed teams 19 times over his enduring career (yes, 19, not making this up) turns 39.
Brandon Pollard, a former U.S. Olympian and Dallas Burn man, who turned in his cleats to be a baker and now stands as the bee king of Dallas, turns 39.
And Shep Messing, a man who knows all the best stories from the Cosmos halcyon days, turns 63. Messing remains an analyst for New York Red Bulls matches.
Big Important Stories of the Day:
The United States roster is out, but all of the fallout of a couple of big moves from Jurgen Klinsmann is still being scattered across the media and supporter landscape.
RASNoD (Random American Soccer Name of the Day): Lauren Fowlkes
*Ahead on the blog today:  Thoughts on Jozy Altidore's dismissal from the U.S. roster. It's just temporary, of course; he can certainly work his way back into grace. But this thing deserves further discussion, one way or the other.
The MLS rankings will drop sometime around mid-day, in two parts, as always.
Twitter daps: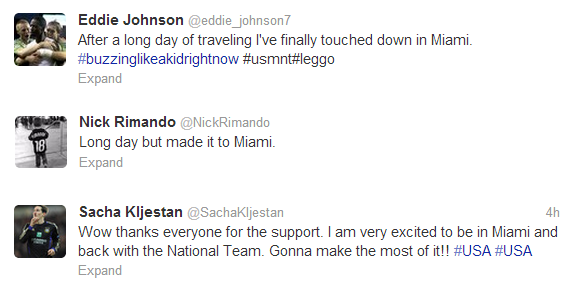 What you should watch on TV today:
Repeats of last week's Champions League and Europa League are all over, but nothing as compelling as live matches. So, maybe we all need to get a little exercise instead, eh?
If the MLS playoffs started today (following 31 rounds):
Eastern Conference
(Wildcard round)
(Second round)
Sporting Kansas City vs. Wildcard winner
Chicago vs. D.C. United
Western Conference:
(Wildcard round)
Vancouver Whitecaps at L.A. Galaxy
(Second Round)
San Jose vs. Wildcard winner
Real Salt Lake vs. Seattle
PST background noise while blogging today: Seems like a Pandora day.
*Always subject to change; you know how it is