New York takes a big tumble during an unfortunate time. Following 31 rounds, here are Nos. 1-10 in ProSoccerTalk's weekly MLS quality rearrangement.
10. Vancouver Whitecaps – We talk so much about Designated Players in MLS, and that's fine. But the Ws and Ls usually come down to workadays either getting their jobs done or not. So last week it was Dane Richards and Camilo doing the bulk of damage in a result the Caps desperately needed, a 4-0 confidence builder over Chivas USA.
9. Houston Dynamo – Houston remains a team without a solid formational core, toggling back and forth between a 4-3-3 and a 4-4-2 and still missing more solid connections between the three lines. It bit the Orange over the weekend when they left two points on the table in a 1-1 draw with Montreal. At this point, Dominic Kinnear's side is probably destined for the wildcard round, so the final two contests are about getting enough points so that Houston is hosting that extra match, not traveling for it. Brad Davis, out last week, should be fit enough to return for Houston's last pair.
8. New York Red Bulls – The club is suddenly dealing with a lot. Last week's organizational upheaval was poorly timed. The team lacked urgency (at a time when it is critical, with playoffs approaching) in a weekend loss at home to Chicago. And then this awful news about the murder of a coach in the club's youth system landed a truly difficult blow.
7. D.C. United – Ben Olsen's side has earned 13 of a possible 15 points since Dwayne De Rosario's injury – and the success hasn't just come at home. Seven (of a possible nine) of those points have come away from RFK. The latest was last week's 1-0 win over Toronto, fortunate as it was; Hamdi Salihi (pictured) cleaned up a late bobble from TFC's 'keeper. The team put playoff tickets on sale yesterday.
6. Chicago Fire – Hard to makes heads or tails of last week'spolar opposite performances. Frank Klopas' men needed a spanking after a sluggish display in the easier outing of the two, a 3-1 loss at home to Philadelphia. But going into Red Bull Arena and emerging with a professional, tactically solid 2-0 result keeps Chicago out of the far more dangerous 4th-5th zone for now.
(MORE: Sherjill MacDonald is ProSoccerTalk's Player of the Week)
5. Real Salt Lake – Fabian Espindola has gone grande in form lately, and the men of Utah are benefitting. They were about to be run off the field Saturday in Los Angeles, but tweaked some things tactically, got a nice goal from Espindola and turned the night. As a result Jason Kreis' team has more or less locked up one of the top three spots in the West – and avoiding that fourth spot is the goal at this point.
4. Angeles Galaxy – At some point this week, I will re-watch the first 20 minutes of L.A. match with Real Salt Lake. If there has been an MLS offense in more perfect synchronization this year, I haven't seen it. The Galaxy's off-the-ball movement was nothing short of dazzling. If they can find that (and for longer than 20-minute stretches), they'll be unstoppable. Of course, that's the trick, isn't it?  Landon Donovan's injury being less serious than expected is the best news anyone in Galaxy Valley will hear this week.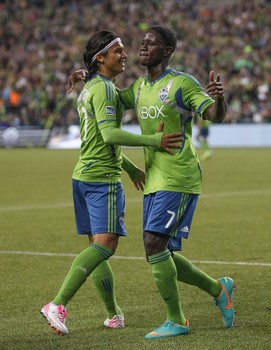 3. Seattle Sounders – Who wasn't left agog over the teeming scene at CenturyLink on Sunday night? What the 66,000 in place Sunday night saw was a midfield at top rev, with Christian Tiffert, Brad Evans and Mauro Rosales giving the visitors, the rivals from Portland, little to grab onto. In fact, all five of Seattle's primary attackers (including Eddie Johnson and Fredy Montero, pictured) were on top of things.
(MORE: Big night  in Seattle; a glimpse of MLS' future?)
2. San Jose Earthquakes – Sure, Alan Gordon on the national team's roster. Why not? Everything else is going so swimmingly around Buck Shaw Stadium, it pretty much figures. Chris Wondolowski creeps ever closer to a league scorer record; Saturday's hat trick in a dominant 4-1 win at Colorado made the last two weeks even more interesting in the Wondo Watch. They have one hand and a couple of fingers on the Supporters Shield now.  And the Earthquakes have lost just once since mid-July and are unbeaten in their last seven.
1. Sporting Kansas City – The men of Livestrong are at 12 games and counting; they haven't lost since July. Think about that for a second and just try not to be impressed. Conceding a goal late last weekend at Columbus may have been a slight wobble (a 1-1 draw) but nothing more than that. Chicago remains close enough to be a bother for the Eastern Conference crown, and a trip into New York (Oct. 20) will not be a jog through the park for SKC. Still, they finish at home against Philadelphia, so it's all still in front of the Peter Vermes' team.