Brian Sciaretta, who ardent U.S. Men's National Team fans will know from his work at Yanks Abroad, showed the world a glimpse of the field in St. John's, and it's not pretty: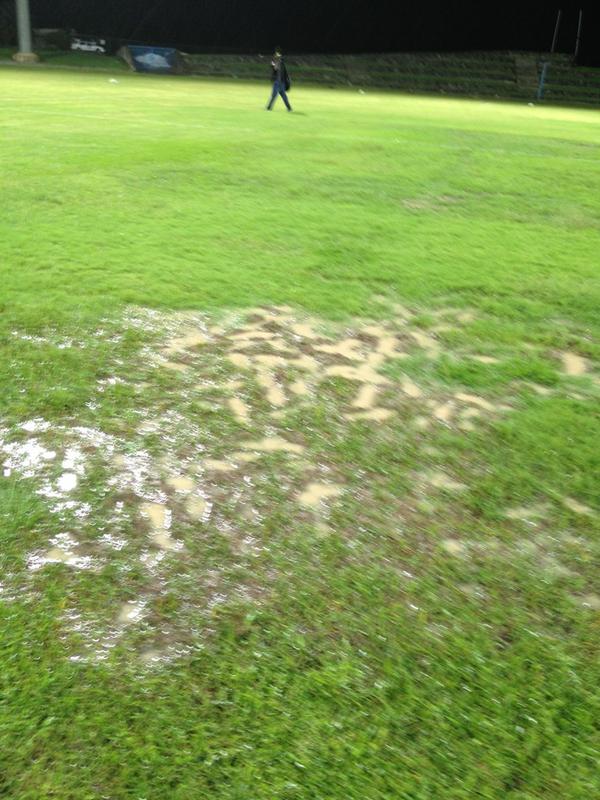 Charles what now?
That looks horrible. Per Sciaretta's tweet, that's from midfield at Vivian Richards Stadium.
Before we go denigrating the U.S. too much, he suggests, take a look at that pitch. Perhaps the U.S. should be thankful for what they got.
It does, however, beg a question: How did the teams combine for three goals in that slop? The answer to that is less important than the fact they did score three goals. While it's true the teams could have had an easier time of it on a nice day (perhaps leading to more goals), scoring was not an issue on Friday night. The States scored as many goals in 90 minutes as they did in 180 versus Jamaica.
Go beyond the goals, consider the chances, and you see a similar story. This was a pretty typical U.S. performance, even in the adverse conditions. Eddie Johnson had three good chances. Michael Bradley hit a post. Herculez Gomez had two opportunities to worry Antigua and Barbuda only to see his touch fail him. Depending on how you want to count them, that's four-to-six chances. It's not as if the United States had been generating many more on good tracks.
The conditions of St. John's cricket ground were part of Friday's story, but they can't be an excuse. Both teams had to play in them, and both teams proved capable of overcoming them. It was unclear the field gave either side an advantage, let alone dictated the result. Ultimately, the U.S. looked no different in a swamp than on dry land: Controlling, but struggling to convert possession into chances.
Bottom line: U.S. Soccer is a program that should be expected to overcome certain obstacles. Weather against a team that didn't make last cycle's third round might be the last of them.
Besides, it's not like many people were taking up the Antiguan cause when they were subjected to a downpour in Tampa.