Soccer birthdays:
Are you freakin' kidding me? How's this for a good karma kick in the head: U.S. forward Alan Gordon, only recently brought into the team, turns 31 today! On the day his country will fight for its World Cup life (even if they are the bigger kid in the fight), it is also the man's birthday?
Paraguayan international Cristian Riveros turns 30.
Big Important Stories of the Day:
Check back here later to see if the United States is still in contention for the World Cup.
OK, maybe that 's a little dramatic. It's unlikely, of course, that the United States will be eliminated in Kansas City tonight. But there is little margin for error. A loss against Guatemala tonight at Livestrong Sporting Park would mean the United States misses out on a World Cup for the first time since 1986.
In fact, this is the first time since 2000 that the United States will go into a semifinal round closer without passage already secure.
RASNoD (Random American Soccer Name of the Day): Joe-Max Moore
*Ahead on the blog today:
World Cup qualifiers will dominate the proceedings, as they should. Does anything else really matter today in the sport – here or around the world?
Twitter daps: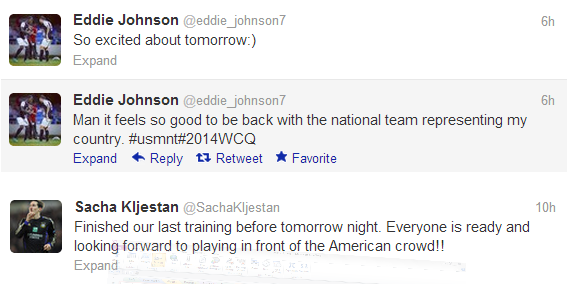 What you should watch on TV today:
Coverage for U.S.-Guatemala begins at 6:30 p.m. ET on ESPN2.
Otherwise, between beIN Sport and the various ESPN platforms (Deportes, ESPN.com), there are literally dozens of World Cup qualifiers available. (Not to mention the ones you can find on streams that are, how shall we say, "something less than legal.")
If CONCACAF final round qualifying started today
The top two teams from each semifinal round group advance into final round qualifying. With one round of matches remaining (Tuesday), here are the teams currently "in."
Guatemala
United States
Mexico
Costa Rica
Panama
Canada
PST background noise while blogging today:
Probably will just lighten the mood by re-watching the hilarious SNL iPhone complaint bit from the other night … several times.
We'll leave you with this:
There will be five home matches in final round qualifying for the United States, assuming things go OK tonight, of course. The way the players are all talking about Livestrong Sporting Park, and given how the place will rocking tonight, I wouldn't be a bit surprised to see Jurgen Klinsmann's team back here for one of them.
*Always subject to change; you know how it is