Soccer birthdays:
Former Canadian international Kara Lang, the youngest person ever to represent her country internationally, appearing at age 15, turns 26 today. Lang represented our northern neighbors at two FIFA Women's World Cups and two Olympics, but had to retire early due to knee injuries. She is now a broadcaster.
Former Dutch international Winston Bogarde is 42 today.
Born on this day
I never saw the man play personally, but plenty of people who know the game believe Russian goalkeeper Lev Yashin was the best ever at his position. When Sports Illustrated writers did their all-time fantasy soccer draft, he went No. 6 overall – and that included all players at every position who had ever played the game.
Yashin, nicknamed the Black Panther for his agility and athletic ability, would have been 83 today. He died in 1990.
Big Important Stories of the Day:
Major League Soccer's playoff field is set, with one round still to be played. There's still positioning to be sorted, but we know which 10 teams will compete for the 17th MLS Cup – and which nine sides will have to begin plotting a course for 2013.
RASNoD (Random American Soccer Name of the Day: Steve Pecher
*Ahead on the blog today:
We'll start by showing you a great goal that was dripping with meaning. (Hint: It came out of Vancouver last night.)
We'll talk about that just-set MLS playoff field and discuss one team that has made it … but that cannot be counted on for being around very long.
And we'll have the usual Monday supply of league goodies (Team of the Week, Player of the Week) and the Monday "Meh" list of things slightly overrated in our game.
*Always subject to change; you know how it is
Twitter daps: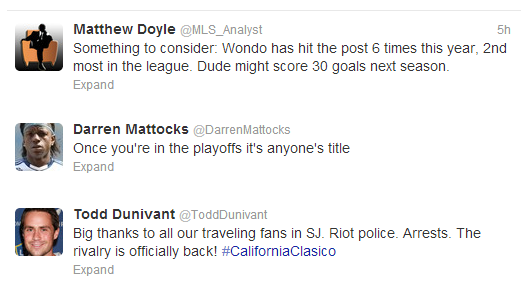 What you should watch on TV today:
Cue up the DVR, because unless you have beIN Sports, and unless you have a dog in the fight between Sevilla and Mallorca, it's a day of awfully slim pickins'.
If the MLS playoffs started today (following 31 rounds):
Eastern Conference
(Wildcard round)
(Second round)
Sporting Kansas City vs. Wildcard winner
Chicago vs. D.C. United
Western Conference:
(Wildcard round)
Vancouver Whitecaps at L.A. Galaxy
(Second Round)
San Jose vs. Wildcard winner
Real Salt Lake vs. Seattle