10. Vancouver Whitecaps – Congratulations to the Whitecaps, the first Canadian side to make an MLS playoff appearance, never mind Toronto's five-year head start. Your reward: a trip to Los Angeles in a one-game elimination contest. Unless Martin Rennie's men find a lot of offense over the next week or so, the club's season will be extended by about four days.
(MORE: Hard to like Vancouver's playoff chances)
9. Houston Dynamo – Houston finished its home season unbeaten and clinched a playoff spot, but there's still a lot of play for. Three points from a Round 34 trip into Colorado could be the difference between playing at home (We mentioned they are unbeaten there, right?) or playing on the road in the 4th-vs.-5th elimination match. It might even mean avoiding that opening-round match altogether. All of that tells us manager Dominic Kinnear is even more likely to use a team of reservists in tonight's CONCACAF Champions League contest.
8. New York Red Bulls – Difficult to say how RBNY fans should feel about last week's scoreless draw at home. I mean, "scoreless draw at home" is never a good place to start a conversation about a talented team with playoff ambition. On the other hand, New York took it to the Eastern Conference champs. Sporting Kansas City needed a herculean effort from goalkeeper Jimmy Nielsen to preserve the shutout. Teemu Tainio had one of his best outings in months; they need more of that, and less of his diminished 2012 form.
7. Chicago Fire – Going into the playoffs on up-and-down roller coaster form reduces the post-season to a toss-up. The "good" Fire apparently remained home in Chicago  last weekend, while the "bad" Fire went limp in a 1-0 loss at New England. In further bad news, the Fire (don't forget, we were talking about Frank Klopas' men challenging for East's top spot just a couple of weeks ago) could tumble all way to fifth if they aren't careful; they finish at home against D.C. United this week.
6. D.C. United – Man, throw in a little SexyBack and Timbaland and it's 2006 all over again! The RFK Stadium stands were full ("down-sized" full, anyway) and the team secured a playoff spot, its first since 2007. Ben Olsen's team secured post-season passage in a thriller, a 3-2 win over Columbus secured on a late goal by reservist Lewis Neal (pictured above along with Olsen). Oh, and if you haven't seen it, check out Branko Boskovic's clever, no-look pass to arrange Neal's goal; it's sure worth a look.
5. Real Salt Lake – What RSL general manager Garth Lagerwey says about tonight's CONCACAF Champions League match, where the Utah side requires a win over Costa Rica's CS Herediano to move into next year's elimination stage: "It is a massive game. Pretending it's not won't make it go away. And I think everybody understands that — from the players in the locker room to the fans. They know what it's all about."  Meanwhile, they still hope to finish with flourish in league matters; a contest at home against Vancouver could vault RSL past Seattle, a better place to be in case teams ahead of them stumble en route to MLS Cup 2012.
4. Los Angeles Galaxy – All the extracurriculars took center stage after Sunday's 2-2 draw in San Jose, a match that was either rough and tumble and full of hard-nosed stuff … or the very embodiment of why MLS needs to tamp down reckless and overly aggressive play. It all depends on your viewpoint. Meanwhile, Landon Donovan and David Beckham are back at practice for the club, which is locked into fourth place. They'll host Vancouver on Oct. 31 in an MLS playoff elimination match.
(MORE: Omar Gonzalez calls San Jose's MO "embarrassing")
3. Seattle Sounders – Smart, opportunistic soccer, not to mention some strong finishing, carried a 3-1 win over FC Dallas and helped secure the Sounders' playoff positioning. This week's trip into Los Angeles looks tricky. Does coach Sigi Schmid risk a confidence beat-down and slippage in positioning for MLS Cup hosts right by deploying reservists? On the other hand, doing so could mean some beneficial rest for the coming post-season charge.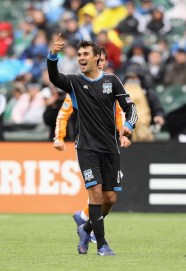 2. San Jose Earthquakes – C'mon, Wondo … just one more goal! (Or maybe two more, so you aren't sharing the record.) Chris Wondolowski (pictured right) has one more contest to match Roy Lassiter's 17-year-old MLS mark for goals scored in a season. With a match in Portland set for Round 34, the Earthquakes' striker sits on 26 goals. He's lobbying Frank Yallop for as much playing time as possible, and the team is committed in its efforts to help "Wonder Wondo" achieve the record. Who says the Supporters Shield winners don't have anything to play for on the final weekend?
(MORE: a huge week around the San Jose Earthquakes organization)
1. Sporting Kansas City – It took big stuff from goalkeeper Jimmy Nielsen to keep New York out of goal in Saturday's 0-0 draw at Red Bull Arena. The team definitely misses Roger Espinoza, who needs to heal up quickly for the men of Livestrong to have the best chance in playoff encounters ahead. Meanwhile, SKC loyalists have themselves an interesting debate going: Lawrence Olum or Aurelien Collin as Matt Besler's center back partner? It's most been Olum lately, although Collin got the call in last week's shutout against New York.