Soccer birthdays:
Huge day for birthdays in our sport. So, let's get started:
Wayne Rooney, having finally grown out of some of that youthful petulance – He was recently a captain for England, and what says "growing up" like that? – turns 27.
And a big "Happy Birthday!" to Juan Pablo Angel. Hope you have a good one, man. Suggested celebration: Get the heck out of that silly Chivas USA circus as quickly as possible. You've earned the right to wrap it up with something better. (The highly respected Colombian veteran striker turns 37 today.)
Former U.S. women's national teamer Kylie Bivens turns 34.
Longtime Scottish midfielder Asa Hartford, who played 50 times for his country and a whopping 744 league games over 24 years (finishing up in 1991), turns 62.
Big Important Stories of the Day:
The second day of Champions League surely cannot replicate the upset potential and drama of Tuesday. Or can it?
There are changes afoot at two MLS clubs, Chivas USA and Toronto FC.
RASNoD (Random American Soccer Name of the Day:   Hank Steinbrecher
*Ahead on the blog today:
Are you seeing all of Richard Farley's Champions League preview work? You should be. Or maybe you don't want to be the smartest guy in the room when conversation turns to the world's top club soccer competition.
We'll have some thoughts on those changes going on around the MLS clubs, too.
Twitter daps: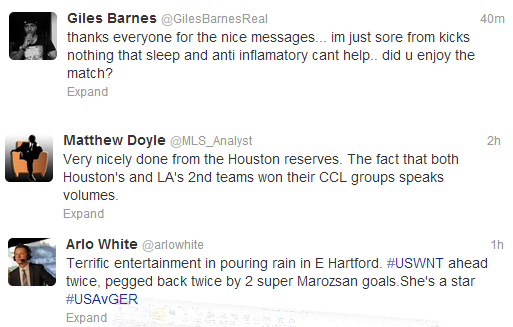 What you should watch on TV today:
Zenit Saint Petersburg vs. Anderlecht begins the day of Champions League greatness on Fox Soccer Channel. That one is up at noon (ET).
Ajax hosts Manchester City from the Netherlands' largest city at 2:45 p.m. in the day's other live viewing on FSC.
German champion Borussia Dortmund host Real Madrid in what should be a terrific match. That kicks off on delay at 5 p.m. on FSC, or live at 2:45 p.m. on Fox Soccer Plus.
If the MLS playoffs started today (following 31 rounds):
Eastern Conference
(Wildcard round)
(Second round)
Sporting Kansas City vs. Wildcard winner
Chicago vs. D.C. United
Western Conference:
(Wildcard round)
Vancouver Whitecaps at L.A. Galaxy
(Second Round)
San Jose vs. Wildcard winner
Real Salt Lake vs. Seattle
PST background noise while blogging today: Catching up on the DVRed Champions League matches that weren't seen today. Sometimes there is just too much of this wonderful stuff, and it's too hard to take it all in. (Not that I'm complaining!)
*Always subject to change; you know how it is