You tell me how this is fair?
The Houston Dynamo rolled out a lineup of almost all reservists last night. And why wouldn't the Dynamo do it this way?
Given results from earlier in the day, they were unable to move out of fifth position; the regular season finale in Colorado became irrelevant in playoff positioning about two hours before kickoff outside Denver. Regardless of the result, Dominic Kinnear's men would meet Chicago in a mid-week elimination match, so going with the reserves Saturday was clearly the right call.
Only, what about Chicago? Wouldn't Fire coach Frank Klopas have loved to have gotten some extra rest for his players four days ahead of this critical 90 minutes, since they didn't get the result they needed Saturday, anyway.
Of course, if we talk about rest and fairness as it relates to the MLS playoffs, can't we also point to the Eastern Conference champions? How is it fair that Sporting Kansas City gets an extra half-week of rest over the remainder of the post-season field? Sporting KC finished its regular season schedule on Wednesday; the rest of the league finishes this weekend.
Here's the point, and it's one I've made before:
It's time for MLS to grow up on scheduling issues, to get out of the minor leagues – and to reject the minor league thinking that creates these situations.
Bottom line here: kickoffs on the last weekend should be simultaneous. Period.
To help accommodate TV windows, they could be divided out by conference, one on Saturday and one on Sunday. Not only is it more fair, but we get the potential for final-day, multi-screen drama like we get in tournament play (or in last spring's brilliant EPL final day drama), where the final group matches go off simultaneously.
Regarding Kansas City's extra rest: The league currently sits at 19 teams, so someone had to get the extra rest. But the schedule makers fumbled this one badly; at the very least, they should have played the percentages and given the early finish to expansion Montreal, which was infinitely less likely to qualify for the playoffs than everyone's favorite to capture the East.
Where is the wisdom in giving Sporting KC the additional rest?
Even better would have been to look at the standings and the schedule a month ago and move a match or two, getting all the contests with playoff implications into the weekend slot.
These issues come up every year. Club and league officials have long cited stadium availability as the primary impediment – but that's just a status quo excuse at this point, and the reasoning falls away with every new stadium added. At this point, only three teams do not enjoy complete scheduling control of their facilities, and two of those (New England and Seattle) have cooperative agreements with NFL partners that provide a reasonable level of flexibility.
So, really it's down to TV agreements and to clubs that are frequently reluctant to move games due to push-back from ticket holders. But this is precisely what I mean when I say it's time to "grow up." The league has to say, "This is the way it is."
Here is what league spokesman Will Kuhns told me via email:
"The availability of national TV windows is one of the hurdles we face when trying to schedule concurrent games. Still, we are discussing the feasibility, merits and challenges of having a more condensed final week of the season in the future. Late-season games are often more difficult to move around because of the large quantity of pre-sold tickets and again, the availability of TV windows."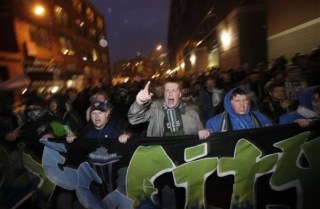 I know some of the owners and league officials are more committed than others on looking at competitive issues when it comes to scheduling; I've talked to various club officials about it.
It is a tricky balance, and I get that. But the balance needs to move; this isn't a 12-team league that's barely hanging on anymore.
On the one hand, fewer games are being played over FIFA dates, a very positive development in MLS scheduling. On the other hand, we just had a game moved into a FIFA window to accommodate a financially beneficial Seattle Sounders friendly.
It's time for competitive matters to take precedent. Period.