Before all MLS focus turns to the playoffs and away from the completion of the 17th  regular season, let's do this for Landon Donovan:
Let's look at where the L.A. Galaxy captain landed in the chase to become Major League Soccer's all-time leader in the two categories that count most: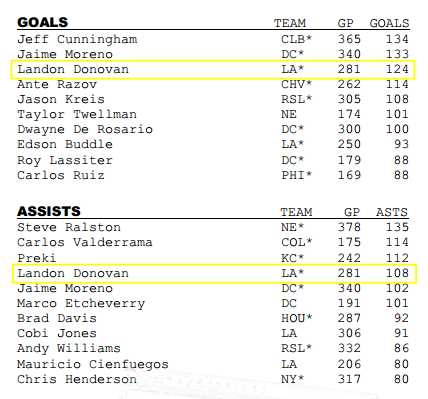 As you can see, Donovan needs 11 goals to become Major League Soccer's all-time leader in goals. I've written for two or three years that it would happen at some point in the middle of 2013. Looks like I might have to revise that a touch, and not just because the guy keeps talking about retirement. (Donovan was at it again last week.)
Donovan has averaged right at 10 goals over the last four seasons. So, barring a spike, he'll cut it close on 2013.
The assist record will have wait, although the Galaxy attacker certainly pulled his weight on the assist train in 2012. His total of 14 is second-best over Donovan's 12-year MLS career.
(MORE: Donovan goes the full 90 in Galaxy closer)
Best guess, that one would require three more MLS seasons, assuming that the next two will be interrupted by World Cup qualifiers, Gold Cup and who knows what else. Or, it might all be moot due to retirement.
That would be too bad. Because as I've written before, the league could go a long, long, long time and not have anyone even threaten to become all-time leader in both categories.