Soccer birthdays:
How do you think Mark Hughes is doing at Queens Park Rangers? The results are not there yet, but still…
He seemed to be OK a few years ago at Manchester City, but perhaps not OK enough for the new owners.
Did pretty well previously at Fulham, didn't he? At any rate, if you see the famous Welshman today around West London or elsewhere, do be a good fellow and give the man some birthday wishes, eh? The QPR boss turns 49.
Big Important Stories of the Day:
Major League Soccer playoffs are off and running. So is the Houston Dynamo. Again. They launched the 2012 MLS playoffs doing what they do … upsetting teams on the road. Congrats! Your prize: a quick turn-around in a match against well-rested Sporting Kansas City, the Eastern Conference champs. So, good luck with all that.
RASNoD (Random American Soccer Name of the Day:  Eddie Robinson
*Ahead on the blog today:
We have MLS playoff material galore. That includes more on last night's match at Toyota Park and plenty on the Galaxy-Vancouver contest that keeps the playoff party going.
Twitter daps: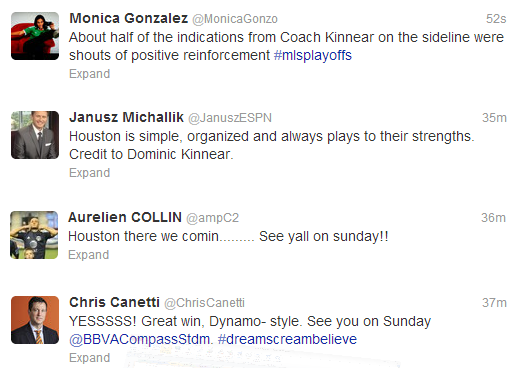 What you should watch on TV today:
Grab a little Italian roast and stay up late for David Beckham, Landon Donovan, Robbie Keane and the rest of the L.A. Galaxy as they host Vancouver in the young franchise's first playoff test. The 10:30 p.m. kickoff is on NBC Sports Network.
We'll leave you with this: Anybody else liking this MLS playoff rhythm that is developing? Game on Wednesday. Game on Thursday. Game on Friday. Game on Saturday. And then two games on Sunday. Our little league is growing up – and getting more and more right!