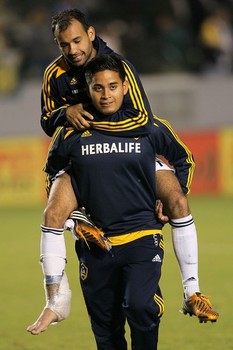 Adding some anxiety to an anxious night for the L.A. Galaxy are ongoing injury concerns that could reduce the champ's chances as in the coming Western Conference semifinal clash.
The Galaxy begins its two-game total goals series against San Jose on Sunday at the Home Depot Center.
The question is whether three valuable starters will be available, Sean Franklin, A.J. DeLaGarza and Juninho (pictured).
Neither Franklin nor DeLaGarza were available for Thursday's 2-1 win over Vancouver. That represents half the Galaxy's back line; Franklin is the first-choice right back, and DeLaGarza is the top choice to partner with Omar Gonzalez centrally along the back line.
The versatile DeLaGarza's absence is a double whammy as he is Bruce Arena's top choice to back-up Franklin on the outside, depending on how Arena chooses to arrange his personnel.
The back line woes were surely part of the reason L.A. fell behind immediately Thursday, as Matt Watson blew by inexperience right back replacement Hector Jimenez. Then, Darren Mattocks shook free of the central marking to push a swell ball past Galaxy 'keeper Josh Saunders. Suffice to say, the Galaxy back line didn't exactly shine in that one.
Arena said he thought Franklin would return for Sunday's series opener, indicating his removal from Thursday's lineup was mostly precautionary.
Meanwhile, Juninho's potential absence may not be the most concerning. He does so much of the midfield running that David Beckham can no longer manage – especially now that the former England captain is further slowed by an ongoing ankle issue.
What the Brazilian midfielder said about his Achilles injury, which forced his 82nd-minute removal:
I'm tired, my Achilles tendon hurts a little bit, but I'm going to rest tomorrow and try to be ready for [Sunday]. I was just standing there and the player kicked the ball through my legs and when I turned, I was just tired, and my Achilles just gave."
Images of Juninho being carried off the field will not make fans feel any better about a quick return.
Arena also said that Christian Wilhelmsson, now a part-time starter for L.A., had a minor quadriceps injury that occurred in practice on Wednesday.