Soccer birthdays:
Portland Timbers boss Gavin Wilkinson (pictured) turns 39 today. (He's still the boss, but a different boss today than a couple of weeks ago. Then, he was the coaching boss. Now he's back to being the technical director boss. Or, he will be when Caleb Porter officially comes on board. It's a bit confusing really. Except for the part about him turning 39. We double checked.)
Italian up-and-comer Marco Verratti, who signed a five-year deal with Paris Saint-Germain last summer, turns 20.
German international Cristoph Metzelder turns 33.
Longtime Swiss international center back Alain Geiger turns 52. He now manages in the Saudi Professional League.
And finally, perhaps you don't know much of Oleg Blokhin, but he was immense back in the day in the old Soviet football. Ukrainian born, he played in two FIFA World Cups ( Spain '82 and Mexico '86) and in two Olympics (1972 and 1976). Blokhin turns 60 today.
Big Important Stories of the Day:
Major League Soccer conference semifinal series are halfway decided. San Jose has a big leg up on Los Angeles (pardon the pun). Houston holds an edge over Sporting Kansas City.
New York and D.C. are all level in their series, but the Red Bulls get the second  leg at their place. Same with Real Salt Lake and Seattle, as the return leg heads to Utah.
As Houston manager Dominic Kinnear said, "It's 'halftime,' and a lot can still happen."
RASNoD (Random American Soccer Name of the Day:  Tony Chursky
*Ahead on the blog today:
We'll have plenty on all four MLS playoff series and begin peaking ahead to UEFA Champions League. Matches in the world's premier club competition are Tuesday and Wednesday.
Twitter daps: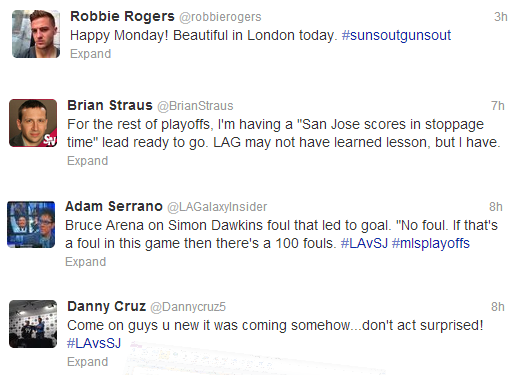 What you should watch on TV today:
West Brom meets South Hampton as the English Premier League round comes to a close. That's on ESPN2 starting at 2:55 p.m.
Background noise while blogging today: Watching the first half of yesterday's Galaxy-Earthquakes contest, which I missed while traveling. (It doesn't sound like I "missed" anything, judging from the Tweets and the reports. But, it's the professional thing to do!)