Soccer birthdays:
Russian international Pavel Pogrebnyak, whose migration west has taken him through German's Stuttgart and then through England's Fulham and Reading, turns 29.
Lille's Joe Cole, who still seems for all the world like he should be Chelsea's Joe Cole, turns 31.
Brazilian international Luis Fabiano, currently with Sao Paulo, turns 32.
Finally, Northern Ireland Aaron Hughes, a fixture around Craven Cottage since 2007, turns 33.
(Bonus: celebrity chef Gordon Ramsay (pictured right), whose tales of a brief career in professional soccer apparently were, uh, "embellished," turns 46. Once his "embellishments" were revealed, a spokesman contested that "Any inaccuracies . . . can be explained by the fact that all this occurred nearly 25 years ago." Yes. I sometimes forget whether or not I played professional soccer, too. It's all so darn confusing! Or, we can go with this: It's also explained by the fact that he lied to gin up a brief trial with Rangers.)
Big Important Stories of the Day:
Things we know this morning that we didn't know yesterday:
Two of the four MLS Cup semifinalist – and we'll learn the third and fourth later tonight, and; we know the U.S. national team's schedule for final round World Cup qualifying.
RASNoD (Random American Soccer Name of the Day:  Scott Garlick
*Ahead on the blog today:
Lots of MLS playoff talk (including more on the bizarre scene in New Jersey, where snow forced a 24-hour postponement of the Red Bulls-D.C. United match), a little Europa League talk and more than a little U.S. national team talk.
Twitter daps: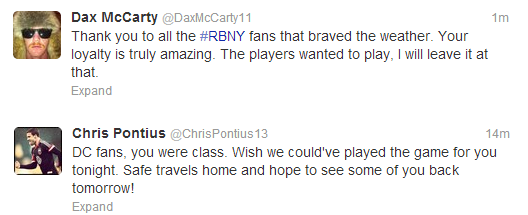 What you should watch on TV today:
Anzhi Makhachkala hosts Liverpool at 11 a.m. ET in Europa League play on Fox Soccer Channel.
Then at 2 p.m. ET on Fox Soccer Channel, Clint Dempsey and Tottenham Hotspur host Maribor in Europa play.
As for the "late shift," both MLS playoff matches are on NBC Sports Network. Coverage of the Red Bulls-D.C. United contest begins at 7:30 p.m. ET.  Then coverage moves west to Utah, where the camera lights switch on at 10 p.m. ET for Real Salt Lake and Seattle.
We'll leave you with this:  MLS host rights are wide, wide open. Sporting Kansas City and San Jose had the top odds going into playoff season. Now it could easily be any five of the six teams still alive; only Houston doesn't have a path to potential host duty.