The United States' schedule for final round 2014 World Cup qualifying looks like a panini sandwich on hard, crusty bread: It's tough and a little abrasive on the outsides but softer and more inviting in the middle.
It starts with a relative high degree of difficulty and finishes roughly the same, but the run of four home games over five match dates in the middle provides the more inviting part, where manager Jurgen Klinsmann's men surely must make their move.
The "wheres" remain TBD, but the "whos" and the "whens" for final round CONCACAF World Cup qualifying are out.
The region's governing body held its draw last night in Miami, filling in the skeleton schedule for the United States, Mexico, Costa Rica, Honduras, Panama and Jamaica. The top three qualify for Brazil 2014; the fourth-place finisher goes to a home-and-away play-in.
For Klinsmann's team it begins in San Pedro Sula against a strong and confident Honduran team boosted by a recent series of successes. That's the first of a slate where the early rounds threaten to leave U.S. fans in a state of high anxiety.
Here is the schedule … then we'll go over several important points and considerations: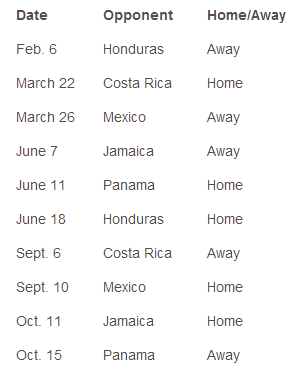 Alas, there will be no La Guerra Fria Tres (The Cold War III). That was the branding for a previous pair of very chilly winter matches against Mexico. As the draw approached, U.S. fans in the know wanted nothing more than to open on Feb. 6 against Mexico at home. That match almost certainly would have gone to Columbus, site of triumphs in La Guerra Fria and La Guerra Fria Dos.
Don't be shocked it things look a bit bleak after four rounds. In fact, everyone might just brace for it. Opening in Honduras and then playing away at Mexico and Jamaica in Rounds 3 and 4 leaves the United States facing a real possibility of resting with some worry near the bottom of the group nearing the halfway pole. In that case …
The June 11 contest  at home against Panama at home will be an absolute, no-questions asked, gotta-win, white knuckler.
(MORE: Additional notes and quotes from Wednesday's draw)
Generally speaking, all home games can be classified as such. And generally speaking, the United States gets its business done: The United States has not lost a World Cup qualifying match at home since 2001.
Klinsmann admits that opening on the road is hardly ideal. "But if you don't have the first game at home you make the best out of it," he said.
Finishing on the road at Panama is a tough spot. If the United States needs a result in that one, look out. Panama is a tougher side than past years' versions. Remember last year's Gold Cup, when the Panamanians became the first team to defeat the United States in the tournament's group phase?