Soccer birthdays:
Former French national team manager Laurent Blanc, a member of Les Bleus' World Cup winning side in 1998, turns 47 on Monday.
Los Angeles Galaxy assistant Curt Onalfo turns 43 today. How about what happened Sunday in Seattle as a fine B-Day "How Do You Do?"
Big Important Stories of the Day:
The 17th MLS Cup is set. A season that began back in early March will conclude Dec. 1 outside Los Angeles at the Home Depot Center, where the Houston Dynamo will surely play the underdog role against the Galaxy. (FYI: It's a Saturday night final for the first time in MLS history.)
RASNoD (Random American Soccer Name of the Day:  Desmond Armstrong
*Ahead on the blog today:
More discussion about the two conference final, second-leg closers. And we can surely squeeze in the popular Monday "Meh" list of the slightly overrated.
About the photo (top right):
Thanks to D.C. United' Sarah Lerner, who snapped this late Sunday on her way out of RFK Stadium.
Twitter daps: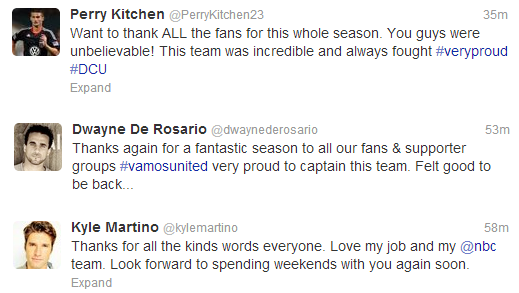 What you should watch on TV today:
Roma meets Torino in Italian Serie A action at 1:45 p.m. on beIN Sports. (If you have it, can we come over and watch?)
Background noise while blogging today:
We'll put Sunday's Fulham-Sunderland match on before it disappears from the DVR. And maybe that neglected Ajax match from last week, too. In fact, I'm not sure how many unseen matches are taking up room on that menu.
We'll leave you with this:
I know everyone isn't 100 percent excited about a repeat of last year's MLS Cup final. Same doggone stadium and everything. On the other hand, Houston will have its best player this time, Brad Davis. That's something  … right?