The scene certainly is a familiar one as the Houston Dynamo find themselves once again in an MLS Cup final.
In seven seasons since moving from San Jose, the organization has been in the MLS Cup final more often than it has been out of league's finale. Let that sink in.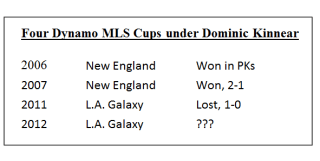 Of course, they'll be desperate to win this one, having fallen to the Los Angeles Galaxy a year ago at the Home Depot Center. But for now, and especially with an extra week this year to relish the opportunity, celebrating the Eastern Conference championship has got to mean a lot for manager Dominic Kinnear and Co. Here is Sunday night's celebration from RFK Stadium.
ProSoccerTalk will keep up the discussion of the chase for MLS Cup through the Dec. 1 final.
.
This video is no longer available. Click here to watch more NBC Sports videos!