Soccer birthdays:
Sporting Kansas City manager Peter Vermes, who would prefer to be prepping for MLS Cup rather than lollygagging around, opening birthdays cards and such, turns 46.
Longtime MLS man Dante Washington, now in the broadcast game, turns 42 on Wednesday.
Seattle Sounders left back Leonardo Gonzalez turns 32.
Joao Pinto, part of that Portuguese Golden Generation that didn't turn out to quite so golden, turns 41.
Big Important Stories of the Day:
We are into Part II of European Champions League Match Day 5. Still confusing, I know.
And speaking of Champions League, the current title holders have canned the man who helped them get there. Chelsea FC have dismissed Roberto Di Matteo. And there was no beating around the West London bush with the club's reasoning. From a statement: "The team's recent performances and results have not been good enough."
RASNoD (Random American Soccer Name of the Day:  Lothar Osiander
*Ahead on the blog today:
Chelsea, Champions League and anything new we learn about the two MLS Cup participants, the Houston Dynamo and Los Angeles Galaxy.
Twitter daps: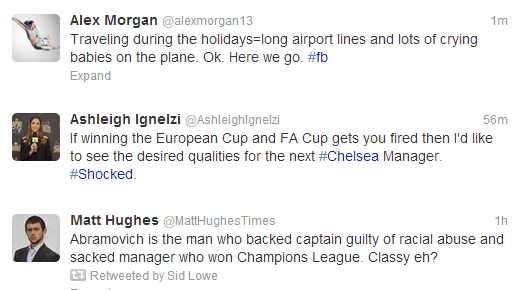 What you should watch on TV today:
Manchester City hopes to resuscitate its Champions League hopes with a win over Real Madrid. Coverage begins at 2:30 p.m. ET on Fox Soccer Channel. As usual, there is plenty of live and taped Champions League coverage across the Fox platforms.
*Always subject to change; you know how it is