Happy Thanksgiving
We are not working much today. What are we, Wal-Mart? (And you shouldn't be working either.) So blogging will be light today … unless there's huge news, huge on the scale of "Franz Beckenbauer comes out of retirement to sweep for the Cosmos" kind of huge. That would be huge.
Soccer birthdays:
If you see Ghanaian international Asamoah Gyan today, tell him "Thanks! Thanks a lot! Thanks for scoring in the third minute of overtime against the United States back in 2010, bouncing Bob Bradley and the boys from World Cup South Africa. Thanks a ton!"
Also, tell the man happy birthday. The former Uninese and Sunderland man turns 27.
Former Vancouver Whitecap attacker Davide Chiumiento turns 28.
And Everton's Belgian international Marouane Fellaini (pictured) reminds us that it just seems like he's been around forever. Fellaini, having such a good campaign alongside Tim Howard at Goodison Park, turns 25.
Big Important Stories of the Day:
It's not a holiday in England, and that's where most of the David Beckham news tends to break from. (Those pesky British tabs work harder at digging into this stuff.) So don't be shocked if something happens on the "Where is he going …?" front. And don't be shocked if it doesn't.
RASNoD (Random American Soccer Name of the Day:  Sasha Victorine
*Ahead on the blog today:
Major League Soccer will release the bulk of its awards next week as part of the build-up to MLS Cup; a few of the biggies are already out, like MLS Defender of the Year and Rookie of the Year. But we are too anxious to wait. So the ProSoccerTalk staff selections for MLS Best XI will be out at noon today.
Twitter daps: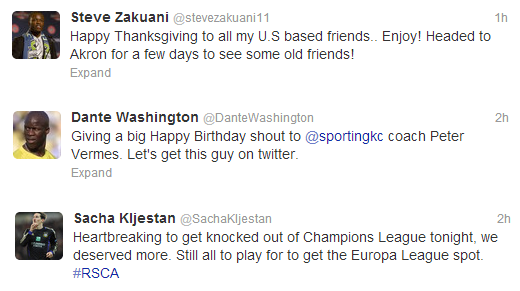 What you should watch on TV today:
Since this is a day to celebrate American, check out U.S. Soccer's 2012 Male Athlete of the Year in action as Clint Dempsey and Tottenham visits Lazio of Italy in Europa League Action. Coverage begins at 1 p.m. ET on Fox Soccer Channel.
Immediately after on the same channel (No need to rise off the sofa!), American-owned Liverpool meet Swiss side BSC Young Boys at 3 p.m. ET
We'll leave you with this:
Seriously, get off the computer. Go spend time with family or friends. The blog will be here when you get back on the laptop tomorrow … or later tonight when you've had it up to here already with family.
* Always subject to change; you know how it is