Soccer birthdays:
Juan Agudelo is no longer a teenager! The Chivas USA and U.S. national team striker, turns 20 today.
Big Important Stories of the Day:
Could be something out of England, where referee Mark Clattenburg is being urged in some corners to sue Chelsea after being cleared of racially abusing John Obi Mikel. Clattenburg may be inclined to do so; he does not sound a bit happy about any of this – nor should he be.
RASNoD (Random American Soccer Name of the Day:  Lori Chalupny
*Ahead on the blog today:
Have you seen where none other than Arsenal manager Arsene Wenger believes the  English Premier League should adopt a schedule closer to – wait  for it – Major League Soccer. How about that! We'll dig in a little.
Twitter daps: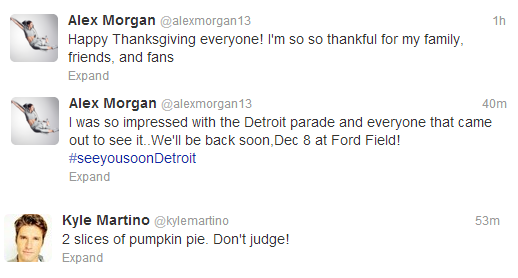 What you should watch on TV today:
Fridays are tough, as most of you know. Best bet: save up the viewing hours for Saturday, when Manchester United and Queens Park Rangers are the morning EPL feature on Fox Soccer Channel. Arsenal at Aston Villa is the second morning match on FSC.
We'll leave you with this:
Any other soccer geeks out there feel a little like a cheater on Thanksgiving, like you are paying a little too much attention to something you keep on the side? You know, spending too much time with the "other" football.
* Always subject to change; you know how it is