One of the more interesting things to come out of Rafa Benítez's mouth in the wake of his appointment at Stamford Bridge was his feeling that neither Frank Lampard nor Ashley Cole would be at the club next year. Lampard is out of contract and heavily rumored to be headed for Los Angeles, while Ashley Cole is apparently going to Paris Saint-Germain.
At least, that's what the Parisian club announced today via their official Twitter, though the tweet was quickly rescinded. Thankfully, the internet was fully functioning at the time, and the person we appointed to hover over PSG's timeline came through with a screenshot (click for larger, likely clearer version):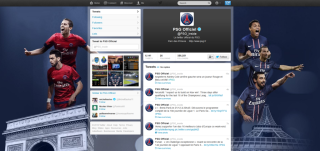 Translating the picture's most recent tweet: English left back Ashley Cole will be a Red and Blue player this summer.
First, let's acknowledge that this tweet may be complete malarkey. It could be anything from an unimaginative hack to a mistaken intern to a somebody just mistyping. Who knows?
Regarding the actual move, it makes sense. At least, it makes sense conventionally. Cole's out of contract soon. Paris Saint-Germain can pay the wages he wants. One of his former managers (Carlo Ancelotti) is in Paris, and the club can give him everything a player might want: a chance to win everything, money, prestige, lifestyle, etc. Plus, PSG is still at the stage where they won't be able to quibble about Cole's growing inconsistency, a function of his age (he'll be 32 next month).
Cole will be an upgrade on Maxwell, even if he isn't enough of one to justify the wages he's likely to garner. But that's not the equation at PSG. Their buys are as much about marketing and branding as they are on-field considerations. In that sense, luring Ashley Cole — the advertised best left back in the world — is still a coup.