The Houston Dynamo is the plain Jane minivan of professional soccer: it never looks very exciting, but the doggone thing gets the job done with minimal fuss and distraction.
Four MLS Cup finals appearances in seven years (including two championships) is all the evidence you need, compelling data that says things generally work right for the men in orange.
Layer in the context of a roster rarely adorned with high-profile, high-priced figures, and the organizational success that has marked this club since its 2006 arrival into South Texas becomes even more impressive.
How can the club keep winning battles when so often devoid of heavy weapons? It's about Dominic Kinnear, about the locker room and (mostly) about the blessedness of unbending accountability.
Kinnear himself jokes about his team's straight-forward style, about the open orange book, one with no secrets worth keeping. Stylistically, they play quickly out of the back with minimal side-to-side movement; there's not much possession for possession's sake. Sooner rather than later, they want something direct into a big striker (it's always been a land of big strikers). This is why Kinnear's side never require a central playmaker, per se, although an aggressive slasher type (Dwayne De Rosario, Stuart Holden, Oscar Boniek Garcia) that can break down defenses is always helpful.
They'll go wide and look for service when possible – although maybe not as much as you might think. By getting forward without much namby-pampying around, the Dynamo win their share of corner kicks and free kicks. And then … well, then Brad Davis.
On defense, it's about shape, effort, tracking, tackling, challenging religiously for every ball, winning second balls and, mostly, a relentless pursuit of doing all of the above without the toxicity of killer mistakes. That is the accountability.
It's not that other teams aren't attempting all the same things; it's that Houston is more dogged in never accepting the teeny-tiniest lapse.
Kinnear is a master of demanding things go a certain way. Technical mistakes may happen, but boo-boos born of sloth or inattention simply are not tolerated. Do it wrong and someone lets you know about it.
If a Houston Dynamo man looks like he's thinking about not tracking back on defense, Kinnear is off the bench screaming at him. (That goes for an MLS Cup final seen by thousands or a preseason friendly in Arizona, seen only by me and about four local parks workers.)
If a wide midfielder of forward isn't tucking in quickly enough on the weak side, Kinnear comes up hollering.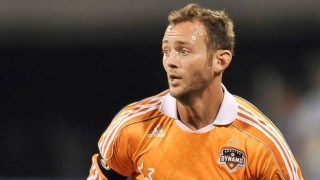 The defender who clears a ball into the wrong spot … the midfielder who is slow to pursue a second ball … the goalkeeper who doesn't communicate information quickly enough to his teammates … well, you get the idea.
It's a demanding, daily grind – and it only works with the right kind of locker room. That's where prudent roster construction comes in.  Kinnear and his assistants aren't just scanning for talent, they always seek talent that is willing to "buy in."
They must be men who don't mind being held accountable, and men who will remind others about that uncompromising responsibility to faithfully toe the line. Fact is, some athletes (some people in general) just don't want to be told they did something wrong, or may lash out defensively when told they aren't putting enough effort into the enterprise.
Build a locker room with the right kind character, and things pretty much police themselves.
Generally speaking, Houston Dynamo men can be counted on to check their personal ambition at the BBVA Compass door; once through the gate, it's about the collective. And when someone loses the orange-colored plot, Kinnear will be there to set them straight.