PORTLAND, Ore. — The Tom Sermanni era of United States Women's National Team soccer is still over a month away, even if the transition period begins tomorrow. At tenuous post-Tom, pre-Pia period means the match will be like most since the U.S. won gold: rich on star power but light on relevance.
A continuation of the States' prolonged post-Olympic celebration tour, Wednesday's match against the Republic of Ireland comes two-and-a-half years before the team's next major competition. It also features an opponent that's ranked 34th in the world (10 spots below Mexico) that never threatened to get out of their group in Euro 2013 qualifying. If last month's matches against Germany were overlooked, Wednesday's may barely be noticed.
The level of competition is a reminder of context. This is a celebration tour. The team's not preparing for anything; rather, they're taking this opportunity to leverage a successful Olympic campaign, selling a few tickets in the process.
The most important part of this year-ending, five-match stretch (two against Ireland, three against China) will be a veteran auditioning for their new coach. Even though Jillian Ellis will continue running the team, every player knows Tom Sermanni will be watching. How the team performs in this pre-tryout period will be the main reason to follow the next three weeks worth of games.
Here are some areas to watch, though for a team that's gone 23-1-3 this year, they're all relative concerns: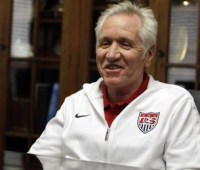 1. When will the Serrmani effect be felt?
The question is actually assumptive, on three levels. It presumes a new coach (a) who has still not officially taken over will (a) have an effect and (b) that effect's impact is a matter of when, not if. It's possible the 58-year-old Scot's main influence will be on continuity – forcing a bridge between a highly successful Sundhage regime and his own. If that happens, we won't be able to detect Sermanni's influence.
Although there were small stylistic differences in how Sermanni's Australia teams played, the approach was largely the same as a U.S. side that's aspired to a more possession-sensitive approach in the wake of Germany 2011. When he arrives, Sermanni (right), who has already spoken positively about his new team's technical qualities (hinting they may be underrated), will help this progression, though we're unlikely to see much difference in the interim.
Still, as a Portland crowd who have been waiting for Caleb Porter know, an absentee coach's effects can still be felt. If you see this U.S. team show a sudden disinclination toward playing long out of the back, credit Tom Sermanni.
MORE: More detail on the U.S.'s new head coach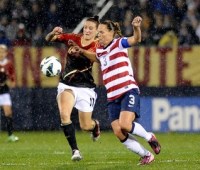 2. Is the defense improving?
National team diehards have long expressed concerns about the team's defending, with seven goals allowed in six World Cup matches underscoring the team's problems against top competition. Those problems appeared on the wane when the U.S. gave up only three goals in this year's first 10 games, but as the Olympic semifinal against Canada showed, the U.S. have to outgun too many teams. Over their last seven games, the U.S. have given up 10 goals.
A lot of that was Pia Sundhage's willingness to play open games. With a new coach coming in, the defense may need to prove it can lock down opponents.
Christie Rampone (right), the team's 37-year-old captain, appears to be sticking around to anchor the defense. She's still among the best players in the world at her position, though the spot to her left – often occupied by Rachel Buehler – needs to be firmed up. That could be done by restoring Buehler's confidence, though fan favorite Becky Sauerbrunn, who possesses the ball skills to help the U.S.'s stylistic shift, should be considered.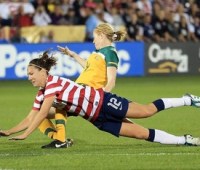 3. [Obligatory concern about the midfield here]
The States have a lot of depth in attack and on the wings, but in midfield, they're sorely lacking for choice. Shannon Boxx, Lauren Cheney (right), and Carli Lloyd are Sermanni's — uh, Ellis's — current options, with Cheney and Lloyd the likely pairing as the team approaches Canada 2015. Cheney's positional versatility and Lloyd's flare for the dramatic make it a capable pair, but against teams like France, Germany, and Japan, the lack of speed, variety, and ball-winning leave the U.S. at a disadvantage.
In Megan Rapinoe and Tobin Heath, Sermanni has wide players capable of playing attacking midfield positions, but it's unclear whether that role would conflict with Abby Wambach, who (with the emergence of Alex Morgan) spends more time occupying that space, waiting for play to come to her feet.
The other idea would be to restore Sauerbrunn to the midfield, a role she playing in college. At the base of a triangle with Cheney and Lloyd, Sauerbrunn would allow the two more attacked-minded midfielders to venture forward without exposing the defense. Her skill on the ball can act as a fulcrum when the States have established their attack, while her time as a defender make her the best choice to protect (and possibly solve the problems of) a vulnerable defense.
Conceivably carrying many of the qualities of a player like Barcelona's Sergio Busquets, Sauerbrunn's a potential response to the midfield strength of the U.S.'s main rivals (Germany, France, Japan). While some have envisioned a similar role for Lauren Cheney, moving Sauerbrunn into midfield would allow one of the States' goal scoring threats to stay higher up the field.
MORE: Coach Sermanni's to-do list ahead of Canada 2015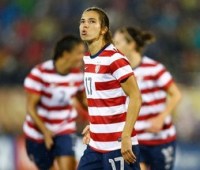 4. Is Heath really a wide player?
For most of her career at North Carolina, Heath played left midfield for teams that won three national titles, a position that allowed her to take on defenders with her elite one-on-one skills. Three years after playing her last game at Chapel Hill, Heath has started to establish herself in the same position with the national team, though with mixed results.
She still shows the ability to break down a defender one-on-one, but against a higher level of competition, it happens less often. When she does beat her mark, her opposition's increased athleticism means quicker recovery. Even when Heath's skills prove a plus, they aren't enough of an advantage to justify forgoing opportunities to work through Wambach and Morgan, particularly since Heath's yet to prove a strong crosser of the ball.
Her skill, however, is undeniable, and it's not difficult to imagine her passing, vision, and quickness being effective in the middle, given the right teammates around her. In the middle, her shot from 18-24 yards can be a real weapon. It all begs a question Serrmani must eventually answer: Is Heath a wide player – somebody who should be taking time away from Heather O'Reilly – or somebody who can help a thin midfield? Her latest audition begins Wednesday.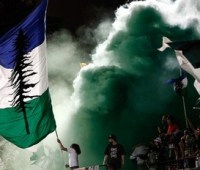 5. Is Portland ready for the new big time?
When U.S. Soccer announced the new women's professional league last week, president Sunil Gulati noted that for the time there would be a direct link between Major League Soccer and one of the top-flight women's teams. The Paulson family, backers of MLS's Portland Timbers, had signed on to support a women's team, one that will likely make Jeld-Wen Field its home.
It's tempting to see Wednesday night's game as a test of women's soccer in Portland, but for a number of reasons, we're unlikely to see the amped atmosphere that accompanies Timbers games. As of Monday, thanks to little citywide buzz and a $38 entry-level ticket price, only 8,600 tickets had been sold for Wednesday's match, a number trailing ticket sales for upcoming games in Phoenix, Detroit, and Houston. Add in the late weekday start and the bite of a fall northwest night, and the game won't threaten Jeld-Wen's 20,438 capacity.
Perversely, all those circumstances could make Wednesday's match a good litmus test for women's professional soccer in Portland. Even though the new team won't be playing in late fall, there are a number of other obstacles it will have to overcome. Creating buzz will always be a problem (especially in a city that's fallen for its MLS product), but ticket prices will be much more reasonable.
Given the circumstances that are keeping many away, getting a crowd of over 10,000 for Wednesday's game against Ireland would be a great sign for the new professional team, especially if two or three of the night's stars are playing for Portland come March.