LOS ANGELES — Asked on Thursday why he was so sure Ricardo Clark could adjust to his new role, Dominic Kinnear didn't exactly dodge the question. He simplified it.
"I didn't want to take Adam (Moffat) out of the team," the Dynamo head coach said when asked why he thought Clark, returning after a spell with Freiburg in Germany, could excel outside of the deeper role he played with Houston's 2006, 2007 MLS Cup champions.
"Adam can't do what Rico does, as far as going forward. But Rico can sit in that hole, but you're taking a little bit away from his game."
That little bit will be on display on Saturday. Playing on top of Moffat in (what will likely be) a two-man midfield, Clark will be responsible for the high pressure that's essential to Houston's plans for stopping Galaxy distributor David Beckham.
And although MLS fans have become used the the notion Beckham is no longer his 2011 MLS Best XI-self (let alone the man capable of playing for AC Milan, as he did during the first years of his Galaxy tenure), hearing Kinnear describe Beckham's virtues underscores the importance of Clark's role.
"Don't give him time," Kinnear identifies as the first key to limiting Beckham's influence. "If he does have time, make sure you stay with runners, because he's not looking to play a possession pass. A lot of the time he's looking to play a pass that's trying to hurt you.
"(You've) got to make sure you make him get his head down, if you can. Put pressure on him. Try and get him to play sideways. You can't give him the lanes to pass the ball because more often than not he's going to pick the right pass, and he's probably going to complete it, too."
Clark is faster than Beckham. If he's not as strong, he certainly uses his physicality more effectively. He covers more ground, has the freedom to do so, and thanks to the help Moffat gets from two wide midfielders (Brad Davis, Boniek Garcia) comfortable playing through the middle for long periods of time, Clark can be dogged and single-minded when battling LA's regista.
"I always say, you give him time, he's still the best passer of the ball in the world," Kinnear says of Beckham. "I don't know if there's anybody out there that (is better) over 20 yards, 30 yards, 40 yards. He's still a wonderful player."
But he's also one ill-equipped to deal with Clark. If you're looking for a reason to pick an upset at MLS Cup, consider how Los Angeles manages its transition if Clark contains Beckham.
Yet it may not be as easy as noting Clark's speed, strength and athleticism relative to the 2012 version of David Beckham. In last season's final, Beckham was arguably Los Angeles's best player, with many experts marveling at his continued ability to raise his performance when the stakes are highest.
There's no higher stakes on the MLS stage a winner-take-all farewell match. Don't be surprised if Beckham finds a way to turn this matchup on its head.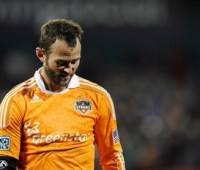 Three other matchups to watch
Brad Davis vs. Sean Franklin
Boniek Garcia vs. Todd Dunivant
Defensively, there's no left back in the league you'd rather have than Todd Dunivant, whose 2011 contributions were so revered as to earn him a rare fullback's spot in the league's Best XI. Boniek Garcia, however, would be a tough match up for anybody, his combination of speed, intellect and industry able to beat players more fleet of foot than the Galaxy all-star.
Those qualities will be most dangerous off the ball, particularly when Brad Davis is working on the left against Sean Franklin.
When last we saw the Galaxy right back, he was on the wrong end of an awakening from Seattle's Steve Zakuani. While you may not find two more different left midfielders than Davis and Zakuani, the Dynamo MVP is just as capable of taking advantage of another Franklin downturn.
And if that happens, Calen Carr's going to be dangerous at the far post after Will Bruin occupies Omar Gonzalez. Rico Clark, already advanced, will have his chance to make an impact crashing the area. And Garcia, if he can out-work and out-run Dunivant, will be begging for a ball rolled toward the spot.
Robbie Keane vs. Bobby Boswell
Keane's movement means both Boswell and left-center half Jermaine Taylor must have great games to give Houston a chance, but it is Boswell that will make the calls, guidance that also extends to where Moffat's position in midfield. With Keane and Landon Donovan frequently dropping in front of the opponent's deepest midfielder to receive the ball, Moffat's ability to protect his teammates is dependent on good information from Boswell.
"He's always played next to a good partner," Kinnear says of Boswell, partially explaining why his strong 2012 has been largely overlooked. "But he guides guys in the right direction."
That guidance has been even more crucial since U.S. international Geoff Cameron was sold to England's Stoke City this summer.
"[Boswell's] had a good season for us. Good talker. Reads the game well. Steps into the midfield at the right times … Smart player."
On Saturday, intelligence may be Boswell's most important trait. Keane's not big, and he's not especially strong or fast, but in the timing and execution of his runs — his movement — Keane's unparalleled in MLS. It's the trait that's led to 22 all-competition goals this season and helped create the goal that sunk Houston in last year's final.
Most worrisome, it's a trait that's near-impossible to prepare for in training. Kinnear can't just take Will Bruin, Calen Carr, or Mac Kandji and ask them to play Keane in practice. All he can do is make the nature of the challenge clear to Boswell, Taylor and Moffat.