Soccer birthdays:
David Villa, a World Cup winner and European Championship winner, and current Barcelona man, turns 31.
Chelsea man Michael Essien turns 30. (Seem to anyone else like that man is a little older, like he's been around forever.)
And it looks like a big day for men of the big clubs.  Former French international and Real Madrid man Christian Karembeu turns 42.
Big Important Stories of the Day:
Major League Soccer's off-season is officially underway, starting with some big moves yesterday from Real Salt Lake.
RASNoD (Random American Soccer Name of the Day:  Arturo Alvarez
*Ahead on the blog today:
The first in a series of conversations based on Friday's conversation withU.S. national team coach Jurgen Klinsmann.
Plus, a look at those Real Salt Lake swaps, and we'll have a special MLS Cup edition of the Monday "Meh" list, a chronicle of the slightly overrated.
Twitter daps: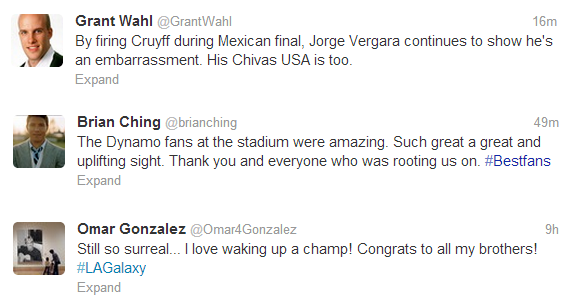 What you should watch on TV today:
The English Premier League's 15th round concludes as Wigan meets Newcastle at 2:55 p.m. on ESPN Deportes. (Yeah, I know … I don't have that channel either.)
We'll leave you with this: Is it too early to begin wondering about where next year's MLS Cup might be? Kansas City? RFK Stadium in D.C.? … The Home Depot Center again?
* Always subject to change; you know how it is