I was among a small group of journalists who had breakfast late last week with Jurgen Klinsmann, the U.S. national team coach whose methods and player selection tendencies can sometimes lean to the less conventional. The results so far have been mostly favorable, even if the aesthetic hasn't always risen to expectation.
Over the next week or so, we will extract one element of the extremely informative conversation, where Klinsmann expanded candidly on subjects ranging from Jozy Altidore to evolving player roles to Jermaine Jones to future matches and all points in between.
Today's topic: Jermaine Jones
I have written these words before: "What Jurgen Klinsmann continues to see in Jermaine Jones, only he can say."
Well now Klinsmann has said. And his explanation makes pretty good sense.
Where we see the imprecise passes and a combustible type who is a yellow card waiting to happen, Klinsmann sees the cumulative effect of a midfield cop on the beat – the guy you want on your side when the you-know-what comes down.
Said Klinsmann: "I know that a lot of people here look differently at Jermaine Jones … but his presence is a big plus for us …. It's just a different type of player than you are used to seeing here in the U.S., that's why some people struggle to kind of evaluate Jermaine Jones. Which is fine. That's no problem."
The bottom line on Jones, the hard-tackling central midfielder from Germany's FC Schalke 04, is that whatever technical deficiencies drag down his game, Jones makes up in presence, infectious professional approach, chemistry and a certain intimidation factor the team misses otherwise.
"If it looks nice, or not, it doesn't really matter," Klinsmann said. "Job accomplished."
Klinsmann, like many coaches, is big on establishing a positive group dynamic – not one bit surprising considering that Klinsmann is such a positive fellow.  He knows that any group – your peers at work or your Wednesday poker game or whatever – has leaders and followers and a certain collective psychology.
Everything Jones does, from his attitude at the team hotel ("He's comes here with a big smile, and he's ready to work. 'What is this [camp] about? Who are we taking on?' That's what you want.") to the practice field to the comprehensive game-day process, Jones is a man's man with weapons grade gravitas. Think of him as the muscled up dude you want around while walking a sketchy neighborhood; there's a feeling that all is OK with this back alley brawler in tow.
Jones comes from a bad neighborhood, Klinsmann mentions, and he is always ready for the proverbial fight, whether that be an actual donnybrook, a fight for his starting position or a fight to keep the intensity in the red the zone in practice sessions.
Said Klinsmann: "He brings the group to another level … and he's proud of that!"
As for game days, I see what everyone else sees: a central midfielder sometimes careless with the ball, whose sometimes-labored passing can stall the attack. Klinsmann sees that too, and they continually work the system to protect against or improve the deficient areas. (Tactically, Jones gets more freedom to take chances at Schalke. So that's always an adjustment, Klinsmann concedes.)
But it's the intangible that Klinsmann truly appreciates:
"He is one of those players that no opponent would like to deal with. There are payers who, when you see them on the field, the opponent struggles with. It's like, 'Shoot, this guy again?' Just his presence. His hunger. [Opponents may say] 'Shoot! Do I need that today?' "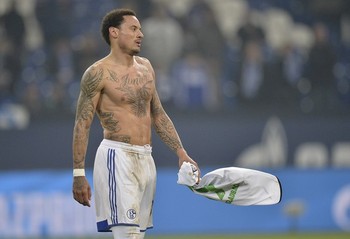 Klinsmann mentioned the historic summer win over Mexico in Azteca, how the Mexicans' approach seems different with Jones is around. They know where Jones is –and they aren't in a hurry to get there.
"It's his willingness not to let go. He is always ready for the grind. He grinds you until the 95th minute. That's something, this mental presence that exists on the field, it's not necessarily what you see when from the stands, when you see passes completed, duels won and all that … this is what you see in terms of chemistry, in terms of grinding on the field, and it's only something the players sense."
Klinsmann says opponents may step back two yards when Jones is around, and that it has a dual effect. Opposition teammates notice and may hesitate similarly, primitive, subconscious traces of self-preservation at work. Meanwhile, U.S. men feed off this razor-wire intensity and sharpen their own approach.
So there you have it. It's OK if you do not agree with Klinsmann's rationale here – but it is nice to hear how the contentious "Jones Variable" fits into the bigger equation in the coach's mind.
TOMORROW: Klinsmann's coming talks with Landon Donovan