PORTLAND, Ore. – Only her face and hands were exposed to the sharp Portland evening, the winds from an unexpectedly frigid November night circling and attacking players, media, and fans assembled at the basin of Jeld-Wen Field. Long black sleeves and pant leggings were complemented by a knit cap, the women's national team training shirt, and the half-sneakers, half-cleats players use on FieldTurf. With frozen breath clouding her face as she stood at the side of the Timbers' home field, Christie Rampone was in a place few expected at this stage of her career: Preparing for another game.
"I thought I'd have this amazing feeling after the (2012 Summer) Olympics," the 37-year-old Rampone said, reflecting back on what was supposed to be her final major tournament, "like 'I'm done, this is it.'"
It's the reaction everyone expected. Rampone was the second-oldest out-field player at the Olympics. At Canada 2015 — the U.S.'s next major competition — she would turn 40, three years older that the most senior out-field player at Germany 2011. With little competitive soccer in the national team's near-future, Rampone was supposed to use Wembley Stadium as her swan song.
But she didn't. When the U.S. Women's National Team captain was finished winning her third gold medal (the States defeating Japan 2-1 in August's final), there was no feeling of completion. Redemption against a Japanese team that had denied Rampone a third World Cup in Germany provided no closure for a career with nothing left to accomplish.
But accomplishment can be overrated. Too often onlookers look at players like Rampone (or, on the other side of U.S. Soccer, Landon Donovan) and ask why a player would continue after all the boxes are checked, even though for many, no such checklist exists. Some athletes define themselves by their resumé. Others take pride in the process.
"I love the journey," Rampone confessed, with pride. "Winning is obviously the main goal, but for me, it's the journey to get there. The ups and downs. The highs and lows. Just being with my teammates.
"I'm not quite ready to give that up. I don't feel it."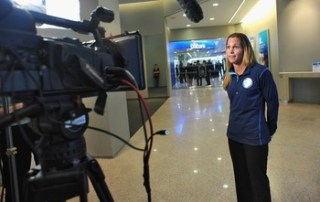 Part of those ups and downs is women's international soccer's three-year stretch between meaningful tournaments, a span that includes the U.S.'s current Fan Celebration Tour: 10 cities, 10 states, 10 chances to cash-in on the U.S. team's London success, and zero opportunities for competitive matches. It's part of a mystifyingly unbalanced women's soccer schedule that allows the sport to fade into irrelevance for three years before staging the World Cup and Olympics in a 14-month window.
It also creates the kind of slog that could deter an older player who can justify moving on – especially if that older player has won a combined five Olympics and World Cups. To have to spend two years playing meaningless friendlies around the obscurity of Algarve and Women's Gold Cups may seem anti-climatic, particularly for somebody with two children and a husband in New Jersey.
But for as tough as it may be for Rampone to fly cross-country to play an exhibitions like the one against the lightly-regarded Irish on a frigid night in the Pacific Northwest, it's all part of the job she loves.
"If my kids said to me, 'Hey, Mom, you're done traveling, I want you home," I'd do it in a second," Rampone explained.
"[The children] love it. They love the travel. Rylie, my oldest, she doesn't want me to stop. She goes 'I'll miss it.' Yeah, well, eventually [retirement is] going to happen. But why now?"
Rylie's urgings should give some relief to U.S. national team fans who've seen the team's dependence on Rampone grow despite the captain's increasing years. While part of that is due to the changes at the back (Rampone was the only defensive player other than goalkeeper Hope Solo to start the 2008 and 2012 gold medal games), Rampone's personal contributions – her maturity, as a player – are the main reasons for her prominence. Her recovery speed, still as good as any in the game, combines with her experience, intelligence and leadership to keep her in the conversation among the best defenders in the world.
It's a remarkable place to be for somebody who started her career as an attacker, her 5'6″ height normally a deterrent to a role in central defense. As her career evolved, she was moved to fullback, often played wide in a three-women defense, and then settled into the middle under Sundhage, a position she's made her own.
"[I'm] just more a confident player, especially playing in the center," she says when asked to compare herself to the 27-year-old version of Christie Rampone. At no point does she mention an area of her game where she feels she's worse. "You're organizing. You're dictating [the game]. You're seeing the game. I just feel so confident out there when I'm playing that just everything else flows.
"Still having the speed, the recovery speed, I'm there to help everybody else out … Just being able to be the one solid person back there that can help [the game] flow."
Hers is not the type of vocal, front-of-camera leadership you see from her teammates, most notably Abby Wambach and Hope Solo. Minute-to-minute, there's little in her words that separate her from her teammates, though her on-field actions speak to national team experience that dates back to 1997.
"I feel like I'm more the calming effect on the field," is how Rampone explains her leadership style, "because I'm not like Raaar. It's just more of a when I speak it means something."
In a squad that, under Pia Sundhage, was often left players to sort out their own internal problems, Rampone's level-headed leadership often provided crucial balance. Combined with her on-field contributions, for which U.S. Soccer has no replacement lined up, Rampone's decision to persist becomes a particular blessing.
Should she stay with the team though the next World Cup (Canada 2015) and Olympics (Brazil 2016), Rampone could become the most-capped player in national team history. That honor currently rest with Kristine Lilly, whose 352 appearances are 79 more than Rampone's 273. Over the last four years, U.S. soccer has played 78 games, though that includes an eight-match schedule in 2009. Up that slightly, a Rampone could pass Lilly after Brazil.
"I would love to continue to play," Rampone said, "at least for a year or two, see where the team's at, because I really am still enjoying it."
That "year or two" timeframe is a curiously short one for a standout defender who seems committed to the next cycle. The next major tournament doesn't start until June 2015. A three-to-four year commitment will be needed to get through the next Olympics, at which time Rampone will be 41.
But the numbers were less reference to her age or performance than deference to the changes happening above her within the team. Sundhage, who guided the team through the last cycle, has left the U.S., taking the head coaching position with her native Sweden. With her went all of the preferences and biases each coach develops in a job.
Now former-Australia head coach Tom Sermanni is stepping into the position, and although Rampone is familiar with him from their time together at the Women's United Soccer Association's New York Power, the captain's taking nothing for granted.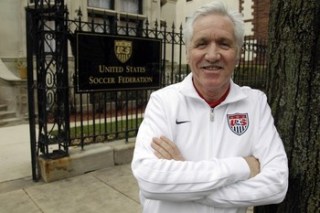 "I'll just talk to him, feel him out, see if I'm going to get a call in," Rampone says, modestly. "Playing with [Sermanni] would be unbelievable. I would be sad if I couldn't get a few games under him."
It's an excessively modest assessment. Rampone is clearly the best defender on the team, somebody who has had no problem maintaining her high level of fitness. She's neither injury-prone nor visibly slowing down, something that would mark that end to her effectiveness at the international level. With uncertainty surrounding every other position along the back, her exclusion from the team's future plans would be anywhere from unlikely to a huge, unnecessary risk.
As somebody who wants to get back into coaching when her playing days are gone (as an interim head coach, she led Sky Blue FC to Women's Professional Soccer's 2009 title), Rampone was deferential to her new coach's potential plans:
"It's just up to where he sees me and what he wants to do. I have no idea, his thoughts."
There was no fear in her words. She wasn't afraid of competing for a spot or being told she was too old. ("I've had a great career. If I'm able to keep playing … I want to do it. If not, I'll move on.") If anything, Rampone welcomes the competition.
"Every coach comes in with their philosophy and their thoughts. Will he want to go younger? Will he want to sick with the same or just bring everybody in and everybody fight it out, just like the good old days? Just grind it out, earn your spot, which I'm hoping. That way it just makes it more competitive here."
Rampone's questions will start to be answered this week when Tom Sermanni joins up with the national team  on Dec. 7 for a three-game observation period before assuming full head coaching responsibilities in January.
He'll likely observe what U.S. Soccer fans already know – what he, likely, already knows. Despite retirement expectations and a future of two major tournaments in her 40s, Rampone remains a crucial part of the U.S.'s chances in 2015 and 2016. With player and family set to continue, Rampone may yet become the most capped player in team history, a worthy status if she's able to add to her five major titles.