Soccer birthdays:
Vancouver Whitecaps center back Jay DeMerit, one of the really outstanding dudes of MLS, turns 33. Celebrate by making a movie about your life. (Wait a minute … Don't do that. Most of us just do not have as a great a story to tell as DeMerit.)
Fine Irish center back Paul McGrath, long of Manchester United, longer of Aston Villa, turns 53. McGrath played 83 times for the Republic of Ireland.
Big Important Stories of the Day:
If Monday was any indication, there will be more player movement and news about options declined and such in Major League Soccer. By the way, we are just over 90 days away from the start of Major League Soccer's 18th season. This is easily the shortest off-season in major U.S. pro sports.
It's UEFA Champions League day, as well.
RASNoD (Random American Soccer Name of the Day):  Mario Machado
*Ahead on the blog today:
The first in a series of conversations based on Friday's conversation withU.S. national team coach Jurgen Klinsmann. (Yes, you read the same thing yesterday in this space. Today … promise. No take backs. No re-application of that asterisk.)
Twitter daps: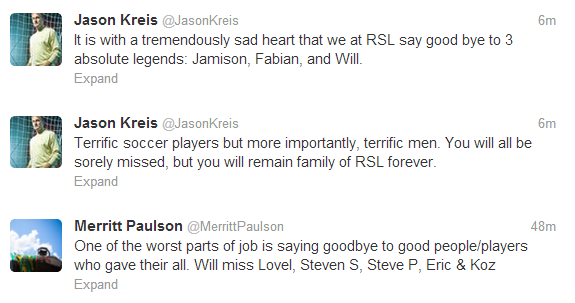 What you should watch on TV today:
Featured Fox Soccer Channel matches in UEFA Champions League: Dortmund-Manchester City at 2:30 p.m. ET and Real Madrid-Ajax (5 p.m. ET on delay).
We'll leave you with this: If the Mayan calendar is right, you only have a couple weeks left to re-watch Victory and all the other great soccer movies. So, ya know … get going.
* Always subject to change; you know how it is