I was among a small group of journalists who had breakfast late last week with Jurgen Klinsmann, the U.S. national team coach whose methods and player selection tendencies can sometimes lean to the less conventional. The results so far have been mostly favorable, even if the aesthetic hasn't always risen to expectation.
Over the next week or so, we will extract one element each day of the extremely informative conversation, where Klinsmann expanded candidly on subjects ranging from Jozy Altidore to evolving player roles to Jermaine Jones to future matches and all points in between.
Today's topic: Landon Donovan's career crisis
At some point over the next few days – heck, perhaps even today for all we know – a quiet dinner somewhere in Southern California, away from prying media eyes, may have tons to say about the United States' World Cup prospects for 2014.
U.S. manager Jurgen Klinsmann – seemingly wearing multiple caps as coach, father figure and career counselor – will sit with U.S. soccer's reluctant superstar Landon Donovan. They'll share a meal and try to cover some ground as Donovan marches toward a critical career decision.
Donovan's career crisis conundrum – whether to push forward, take a short break, take a longer sabbatical or walk away from it all at age 30 after a 13-year professional career – will have bunker buster-type impact on the Los Angeles Galaxy and the U.S. national team.
Hence, Klinsmann's interest.
Only, the U.S. coach doesn't seem a bit bothered by the prospect of losing access to the program's all-time leading scorer.
Said Klinsmann: "I take the easy approach that, that once your season is done, let's sit down over lunch or dinner and just talk about your life, and what you want to do. … And I give you my two cents!"
He said that last part with a laugh. But who could doubt that Klinsmann is uniquely positioned to parcel out some advice? These two aren't exactly alike – but they are similar in playing by their own rules in assembling a professional soccer career.
Klinsmann did it by seeking out life opportunities, exploiting chances to explore cultures through soccer in Italy, France and England. (Later in the United States, too.)
Donovan has cobbled together a fine pro career by eschewing the chance to travel, the necessary path for most American players destined to pin down the best version of themselves.
Klinsmann always wanted more out of life than soccer; Donovan seems to be leaning into that kind of mindset. So …
"We'll see where he's at," Klinsmann said. "That's what we are going to do now when he's done [with the MLS Cup]. I am very positive that he continues to play. But as I have said previously, it's his decision. … It's totally up to him what he wants to do."
All options are open, Klinsmann said. Presumably, that means Donovan could take a long period of R & R, miss the team's early February qualifier and still be part of the longer planning.
"I don't know. It's really down to that talk we are going to have," the coach said. "Maybe it takes more talks. I don't know. But it's no problem at all."
Klinsmann is hardly oblivious to Donovan's ability or potential impact. The Sporting News' Brian Straus recently did a wonderful job outlining what Donovan faces as the face of U.S. soccer and what he means to the U.S. national team. By extension, of course, he means plenty to the team's Brazil 2014 ambitions.
It's just that Klinsmann focusses on a bigger picture, what he sees as an evolving "group that is growing, one with lots of fresh blood."
"If Landon is not there – obviously we want Landon to be part of it – this team will find solutions. We will adjust. We will make the changes we need to make."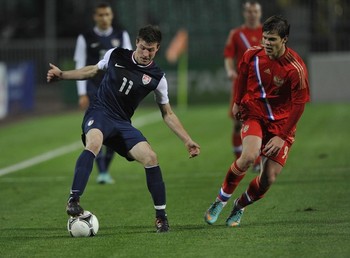 He mentioned Donovan's lack of availability for some of those early Klinsmann-directed camps, which provided room for Brek Shea's breakthrough. And in Russia last month, there was Josh Gatt (pictured) running the wing to somewhat promising effect; would we have seen Gatt if Donovan had been available?
Still, doesn't Donovan's availability affect the way Klinsmann wants the United States to play? For instance, Donovan's speed and experience up-armors the team's ability to counter attack. Even there, Klinsmann shrugs.
The guiding concepts aren't married to any personnel, he said. Klinsmann talks about the "outline," high pressure when they can, playing out of the back when they can (minus the long-balls as much as possible). Then he tweaks and twists from there.
"But still with the same approach, we want to push it up, we don't want to just play defensively against Italy, or in Russia."
Which all may be true. It's just a lot easier to do with the speedy and heady feet of a guy like Donovan around.
(MORE of the Klinsmann conversation: explaining Jermaine Jones)
TOMORROW: Getting players to get more from themselves