I was among a small group of journalists who had breakfast late last week with Jurgen Klinsmann, the U.S. national team coach whose methods and player selection tendencies can sometimes lean to the less conventional. The results so far have been mostly favorable, even if the aesthetic hasn't always risen to expectation.
Over the next week or so, we will extract one element each day of the extremely informative conversation, where Klinsmann expanded candidly on subjects ranging from Jozy Altidore to evolving player roles to Jermaine Jones to future matches and all points in between.
Today's topic: Embracing discontent
Somewhere, somehow, Jurgen Klinsmann's chief vehicle for United States national team improvement got lost in translation.
We all got this notion that Klinsmann's chief method for program progress was getting the team into a more aggressive mindset on the field, to attack a little more, doing so with a  certain loveliness in the craft. So there has been grumbling and grousing when the games have looked, in critics' minds, a little too similar to games under former manager Bob Bradley.
No question that Klinsmann wants his team to attack a little more. And he surely wants to create a "no kick ball" zone.
But that's not really the main emphasis of his quest for U.S. progress. If we pinpointed the presiding initiative of Klinsmann's time in charge, it would be his drive to hammer into every single player the blessedness of discontent.
Those are my words, not his. But they fit.
It's about getting more from the talent in place.  More specifically, it's about getting the players to get more from themselves. It's about them becoming greedy for self improvement, about having the drive and determination to get there in a comprehensive way. This comes up in every single conversation that lasts more than three minutes with the 48-year-old German.
"Everything has a purpose. If it's food, if it's recovery, if it's training itself. And they went through that learning process [in the last few months], and they are starting to appreciate it. Even if it's a little more demanding, even for the European players. Because I know what they do [in training] in Europe. I know the rhythm.
"We want to make them understand, we are trying to move up!  We can only get better, we can only get closer to the best in the world if we do more than them. We are not getting to their level if we do less. Or even the same! We only get better if we work more, do more, and talk more … make them understand they have to be professional off the field as well, they need sleep, that they need the right food, all those lessons. It's coming along. But it's a process. They are not changing their habits [in one day]."
"Some guys are greedy for it. 'Tell me, tell me …!'
And then the contrast …
"Some guys are used to training once a day, having off, then they lay in bed until 11 … "
Klinsmann said he was lucky to have recognized this as a young player. He quickly gained the appreciation of the extra session or added emphasis in a certain area. Do the extra work, he figured out, and he could move past players, figuratively and literally.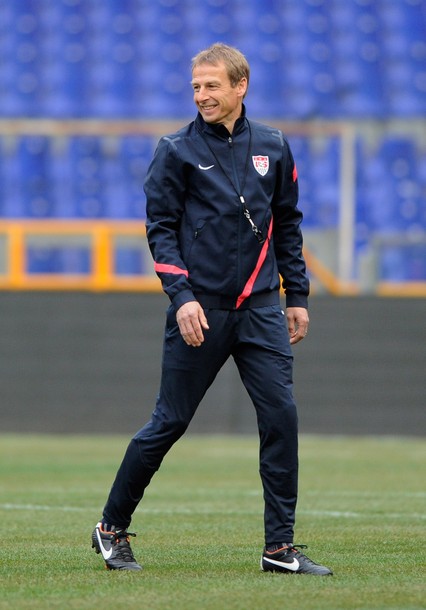 "And it gives you confidence. The last 15 minutes in a game, that's the time I was waiting for. "OK, I am going to kill you guys now.' " .. When the players understand that, If I add another session a week, or two, or maybe a run here or there, it's for the players. You are not running for the coach. If you feel better, strong, if you recover faster, if you eat cleaner, if you live a bit more conscious, it will pay off for you.
"Maybe it's a good question to ask Eddie [Johnson], 'What do you think? You are 28 or 29 now. Are there some things you could have done better?' It would be an interesting discussion.
"It's a culture. The culture is still that, 'This is a team sport and I go with whatever the team demands.' But that's not the culture for a top athlete."
The longer U.S. camps always begin with tests of stability, flexibility, power, cardiovascular fitness, etc.  From there, any deficiencies are identified and the staff lays out a plan for improvement. But obviously the athletes can be around the national team staff only a few days a year; it's up to the players to go about the hard business of betterment.
Not everyone has gotten on board. Klinsmann gave hints that some players were clearly not making the strides he asked, so he laid it on the line for them. Those cannot be pleasant conversations, but even the affable, highly encouraging Klinsmann says he's had them. It's about accountability, he said.
"If we see there is no improvement at all. You know, 'We told you, to improve your stamina or your endurance. But we see there is no improvement there. You come in, you have the same numbers!' Then I have a talk. 'You know, it doesn't seem to me you want to get to the next level. You have settled for that level, you think you are good enough."
Tomorrow, we can talk about how all that affected on player … Jozy Altidore.
(MORE of the Klinsmann conversation: explaining Jermaine Jones)
(MORE of the Klinsmann conversation: Landon Donovan's career crisis)
(MORE of the Klinsmann conversation: the man is OK with being wrong)
(MORE of the Klinsmann conversation: Jozy Altidore's recent roster omission)
(MORE of the Klinsmann conversation: tough friendlies ahead)