I was among a small group of journalists who had breakfast recently with Jurgen Klinsmann, the U.S. national team coach whose methods and player selection tendencies can sometimes lean to the less conventional. The results so far have been mostly favorable, even if the aesthetic hasn't always risen to expectation.
Over the next week or so, we will extract one element each day of the extremely informative conversation, where Klinsmann expanded candidly on subjects ranging from Jozy Altidore to evolving player roles to Jermaine Jones to future matches and all points in between.
Today's topic: Jozy Altidore's roster exclusion
The domestic soccer world nearly fell over backwards when Jozy Altidore was left off the U.S. roster for a pair of critical World Cup qualifiers.
"The World Cup is on the line, and this coach is leaving behind a man who cannot stop scoring goals in the Dutch league! Is he off his German meds or something?"
For Klinsmann, it wasn't about Altidore per se. It was about all the things we talked about in yesterday's post, about embracing discontent. It was about demanding accountability and a drive for improvement. It was about a bigger message.
And Jozy Altidore wasn't getting it.
"This is what we look at. We want to see consistently in what they are doing.  But we also want to see them improve. If they are settled with a level, where they say, 'This level is OK with me,' we want the next younger guy to come in and bite his ear off. … No matter who they are, what their name is, that's what we want to see. And they are getting that message more and more."
Only, Altidore didn't seem to be getting the message last summer. And it wasn't sinking in by September's World Cup qualifiers. So came the conversation.
"I told Jozy, what happened [before] is not OK. It's simply not OK."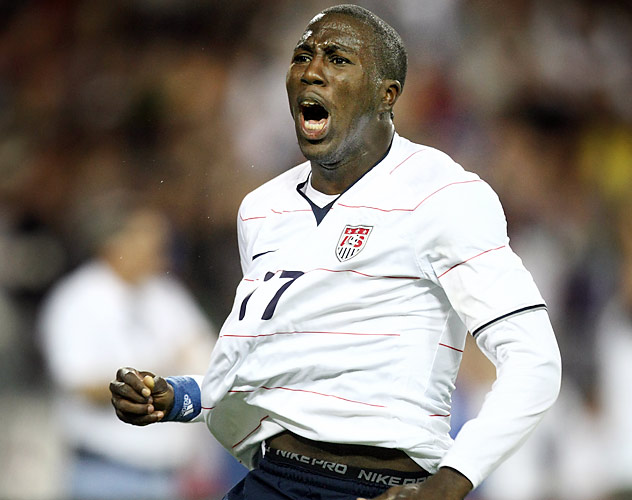 Klinsmann says he always kept the situation in context.  Altidore may already have a career full of national team caps, but he is still a young player, just 23.  The U.S. striker and current Alkmaar man was even younger when he was sold to Spain's Villarreal for $10 million. Who wouldn't have a little "I've arrived" about them at that point? Still …
"So I told him, 'I always try to put myself into your situation. But right now, because of what we went through together, it is the right thing is to leave you out, and to make you understand that it is not working this way. And let's get together next time, and there will be [a next time], and we'll talk through it again.
Klinsmann said he subsequently saw the reaction he wanted – which was always the point, to spur improvement.
"And he [later] said, 'Yes, I totally get it now.'  So it's a learning curve. That's why I say, the door is always open. But sometimes you just have to shut it for a second …"
Klinsmann likened it to his time in AS Monaco, under Arsene Wenger, when the current coach of Arsenal sat a talent young striker named Youri Djorkaeff on the bench. That team also had Lilian Thuram and Emmanuel Petit, fellow Frenchmen would all go on to win a World Cup in 1998. But in the early 90s, they weren't "getting it."
So Klinsmann started hanging out with Djorkaeff and the others. He said they all got along famously, so it was easy.
"I told them … you guys, you have a huge future ahead of you. But you have to get it. And slowly and slowly it was coming, and then he broke through."  That relatively unknown team went on to play AC Milan in the Champions League semifinal.
What Klinsmann tried to do all those years ago with Djorkaeff, he's doing now with Altidore.
What about those Altidore Tweets that dropped after his roster exclusion in October, social media messages which seemed to express a certain discord? Does that stuff bother Klinsmann, these potentially incendiary public reactions?
"No. Not as long as they are not going completely overboard. If somebody says something out of emotion, if they are upset or expresses something out of emotion, that's fine."
(MORE of the Klinsmann conversation: explaining Jermaine Jones)
(MORE of the Klinsmann conversation: Landon Donvan's career crisis)
MONDAY: The friendlies ahead