When Manchester City pasted Manchester United 6-1 last October, it was still too early in the Premier League season to know if the campaign would become a two-team race. But after Chelsea's winter swoon took them out of title contention, England's most decorated team (United, 19 titles) was left to defend their title against a rival who had not won the first division since 1967-68.
This year there's no illusion that the title will be settled outside Manchester. Second place City, defending their first Premier League title, remain undefeated and have a six-point lead on Chelsea and Tottenham. United, three points clear of their rivals at the top of the league, have already won three more matches than anybody else in the league. With the exception of Chelsea's strong start, there's been no indication anybody can keep up with the Manchester sides, and with the teams combining for 21 wins and six draws in 30 games, there's little hint either club will come back to the pack.
MORE: Key man in Sunday's Manchester Derby
Early Sunday morning, the teams wage their first of two league derbies this year (8:30 a.m. Eastern kickoff), a match that you could see as one of only two big, title-relevant matches of the Premier League season. Sure, history and locality mean matches like Arsenal-Tottenham and Liverpool-Manchester United will always be important, but if you discard folklore and narrow your focus to this Premier League season, the two Manchester derbies start to look disproportionately important. Like Spain's Clasicos.
While it will take much longer than two years to establish the type of two-tier league Spain's evolved into, this year's developments in the Premier League combined with the 19-point gap the Manchesters put on the league last year is noteworthy. If you look at the underlying numbers, goals scored and goals against, the numbers are even more troubling. Last year City and United put up differences of +64 and +59. The next-best mark was Arsenal and Spurs' +25. Last year, the Premier League was Spain.
If Chelsea can't get their management issues worked out — if Arsenal and Liverpool don't recover and if Tottenham can't cease their window they've opened for themselves — we could see a small fissure form between the Manchesters and their competition. It will be small and less entrenched than chasms that exist in Spain and (to a lesser extent, now) Ukraine, but it will soon become something England's other powers will have to overcome.
MORE: Chelsea finally comes good in Premier League
Within the derby, Manchester United, despite their lead in the standings, finds itself trying to make up ground. Their late-season collapse this spring allowed City to win the title at their expense. Though United has recent wins over City in the FA Cup and Community Shield, the Citizens won both the teams' Premier League meetings last season and defeated the Red Devils when the clubs met in April 2011's FA Cup semifinal. Recent big games — the ones both teams have really wanted to win — have gone to City.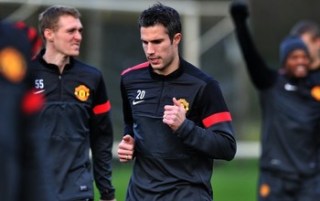 There are a number of reasons to think Sunday's meeting will be different. This time, Manchester United have Robin van Persie, the former Arsenal-man quickly becoming the focal point of Manchester United's attack. Any doubt that the Red Devils needed a player of van Persie's potency has been assuaged by 13 goals in 19 all-competition appearances. Add his presence to the a United team who, after losing last year's race to their noisy neighbors, have no confusion about where their focus should lie and a City side that has struggled to regain last year's stride may have trouble replicating last year's dominance.
There is another side to that coin, though. For all his production with Manchester United, van Persie has not scored in his last eight matches against Manchester City. And although Nemanja Vidic could return to Alex Ferguson's back line, Manchester United's defense (11th in the Premier League) is among the worst competing for a major European title. It's rare that a team so flawed can compete for a crown like the Premier League's, but with the firepower at Ferguson's disposal, it's not difficult to imagine a scenario where they can best City.
And within the current landscape of the Premier League, that's may be all either Manchester club has to do: Beat their rival. Last year, Manchester City took all six league points. Had Manchester United drawn one of those two games, the Red Devils would have won a 20th title. And already three points up on City (nine points ahead of the rest of the league), a draw may be all United needs to take control of this year's Premier League.