Credit to Jermaine Jones. The guy has publicly addressed his red card, taking to his Twitter account (@jermainejunior) on Saturday night to apologize to Schalke fans for getting sent off at Stuttgart:

After it happened, I took to my soapbox to outline all my problems with the challenge: it was unnecessary, part of a pattern, ill-timed, and inherently disrespectful to his opponent. Jones conceded it was a too much for a "50:50" challenge. He undoubtedly realizes down 3-1 with his team playing 11-on-10 is a poor time to be that aggressive. And though I'd like him to be "100% on the ref side," it would be a little naive of me to expect an athlete to do so.
Regarding the pattern of behavior, that needs to be taken back. According to various sources, Jones earned the first straight red card of his career today. He may have a penchant to unnecessary fouls, but there's little record of his affinity for dangerous ones.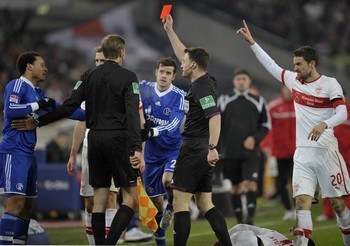 Still, I would have like to see him apologize to Ibrahima Traoré, the Stuttgart player he put at risk with his challenge. That play could have seriously injured the 24-year-old Ivorian. Without acknowledging that, I'm not sure Jones really gets what was so wrong about his challenge.
In the big picture, the problem wasn't that you broke the rules, Jermaine. It's that you took another player's well-being into your own hands. For feet, as it were. For those few moments you were airborne with your right leg extended, Traoré's immediate future was under undo risk.
That this isn't the first thing on your mind when you go to tweet apologies hints this situation could happen again. I only hope the next player is as spry as Traoré.
And I'm not looking for contrition here. At least, I'm not looking for it from one player. This is a sport-wide problem. The frequency of these kind of tackles is something every player should care about the same way basic safety concerns are important in all sports. No horsecollar tackles in American football. No putting a guy head-first into the boards in ice hockey. No ankle-breakers in soccer.
They're not an inherent part of the game. Nowhere in the rules are lunging tackles addressed, but player safety and danger play is. The potential risk associated with these plays in no way justifies an insignificant reward.
From what I know of Jermaine Jones, I imagine his response to whether he should apologize to Traoré would be "of course." It's just not something that enters a player's head unless an injury has occurred. That's how far down the list of priorities player safety is in these situations.
Over the last 25 years, the game has gotten much better about curtailing these types of challenges, but at some point, players are going to have to take it upon themselves to say the possibility of injuring a fellow professional makes those challenges off limits.
Whether that means more punishment than a red card and suspension, I'm not sure. But I'm confident once players agree this type of aggression has no place in the game, the problem will disappear within a generation.