The club hasn't made an announcement yet, but if the man's Twitter is any indication, José Luis Sanchez Sola – Chelis – is going to be the new boss at Chivas USA: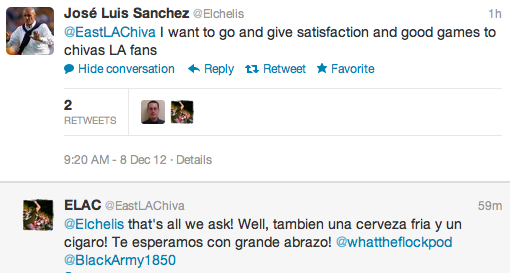 And although the guy deserves credit for having some English in the bag at the onset, something got lost in the translation here:

I take it Rich Ransom won't be meeting Chelis at the airport.
We talked about it yesterday, but of the three candidates prominently connected to the Chivas USA job, I thought Sanchez was the worst fit. That doesn't mean he's doomed to fail. Jorge Vergara may have heard something in the interview that sold him on the choice. But with Ramon Ramirez and Steve Sampson, I can see why they're be hungry to do well in this job. With Sanchez, I don't see it.
That thinking is flimsy enough to fade away with one strong media session (which means the logic should hardly be used at all). What will be harder to dispel is the notion that Vergara continues to see Mexico has having answers for MLS. If the Chivas owner were bringing Enrique Meza or Victor Manuel Vucetich north, the move would be beyond reproach. But Sanchez is a man that's been with three clubs since the beginning of 2010, the last of which was in the second division.
He has no experience in MLS and no meaningful connection to Chivas USA nor the club in Guadalajara.
The results will eventually speak for themselves, but on paper, there are a lot of question marks …
… presuming Chelis isn't speaking out of turn on Twitter.