Since Wednesday there were doubts whether he'd even play, but not only was Lionel Messi in the starting lineup for Barcelona at Real Betis today, he quickly answered the day's big question:
Would he break the record?
That record was former Bayern Munich/Germany striker Gerd Müller's, the three-time European champion posting 85 goals in all FIFA-sanctioned competitions in 1972. Messi entered today's game on 84: 72 for Barcelona; 12 for Argentina.
The record-tying goal came after only 16 minutes, with Müller taking a back seat nine minutes later:
[youtube http://www.youtube.com/watch?v=ok8SeyOGbH8]
It's apropos that the record-setter came on a goal that's had to be added to Messi's game. You didn't see play like that when he broke into Barça's senior team eight years ago. Since, Messi has matured from the widely talented right winger he was at 17 into the middle-of-the-field orchestrator he is today.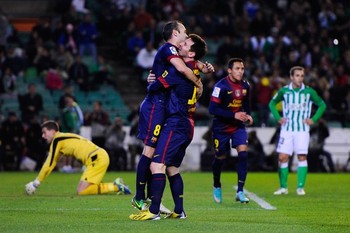 Charging at the defense, he lets his pass for Andrés Iniesta go just in time to give his teammates space for a backheel. One touch later and Messi's let go of a surgical far post finish. The opposing keeper has no chance.
Messi's always been a phenom, but that kind of playmaking and precision are things he's had to develop en route to becoming the world's best player. His initial value was on the ball – taking on his man to create his own opportunities, occasionally setting his teammates up for others.
He was a wildcard to team built around Ronaldinho, Deco, Samuel Eto'o, and Xavi. Now his game embodies the best of all those players' skills: Xavi's precision and prolificness; Deco's nous; Eto'o finishing; Ronaldinho's flair.
Though today's accomplishment highlights his individualism, Messi's matured into a player you can build a team around without fear it will devolve into a quest for numbers. The records just come.
After today's 2-1 victory in Seville, Barcelona has four more games left on their 2012 schedule: a Copa del Rey home-and-away against second division Cordoba, a huge home match against Atletico (and Radamel Falcao) and a year-ender at Real Valladolid.
If he plays every game, as he wants to do, Messi could come close to 95 goals, but with 100 out of reach and Cordoba offering a chance for rest, look for Messi to settle in just short of 90.