I was among a small group of journalists who had breakfast recently with Jurgen Klinsmann, the U.S. national team coach whose methods and player selection tendencies can sometimes lean to the less conventional. The results so far have been mostly favorable, even if the aesthetic hasn't always risen to expectation.
Over the next week or so, we will extract one element each day of the extremely informative conversation, where Klinsmann expanded candidly on subjects ranging from Jozy Altidore to evolving player roles to Jermaine Jones to future matches and all points in between.
Today's topic: Tough friendlies ahead
Jurgen Klinsmann giggled when someone at the table mentioned that his U.S. Soccer team in 2012 had faced three teams in the FIFA Top Ten: Russia, Italy and Brazil.
"Mexico is not in the Top Ten?"
It was a funny moment, hearing Klinsmann stick it to the main U.S. rival just a little.
But the bigger point was well taken. Among the swell promises when Klinsmann came on board 16 months ago was a schedule chock full of high-level matches. It looks like 2013 (and beyond) will look no different.
For instance, Klinsmann hopes to face Germany at some point in 2013. Clearly, this would be a special one for Klinsmann, who helped that country win a World Cup and later coached Germany to a third-place World Cup finish.
"I would love to see that happen," he said. "We would love to have every big soccer nation come to us and play a friendly."
As to that one, he said the Germany contest "is looking good." Venue? Somewhere in the United States, he said.
This is the kind of match he wants to play in the States, for a number of reasons. But a bit of running joke through the breakfast conversation was last month's trip into Krasnodar, Russia (pictured), to play one of Europe's better sides. If they'll play in Krasnodar …
"We take them on wherever." he said.
There is one biggie of a friendly that Klinsmann would, however, like to make a road trip: he would love nothing more than to play a friendly in Brazil I 2013. Trouble is, the calendar presents a big obstacle. It's already full, and that's too bad.
The United States will not be involved in the 2013 Confederations Cup in Brazil. That's a bummer. (Remember about 18 months back, when Bob Bradley and everyone around U.S. Soccer kept telling us how important the 2011 CONCACAF Gold Cup was? It wasn't just the Gold Cup itself, it was that a spot in the Confederations Cup went to the winner.)
That means the United States misses out on an exploratory to trip into Brazil next year. Teams love getting a hands-on look at stadiums, training sites, accommodations, etc., removing some of the mystery from the big, ultimately important trip ahead to Brazil in 2014. The more players involved in this hands-on "site inspection," the better.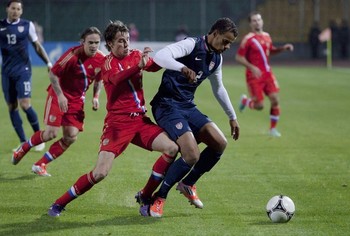 So Klinsmann hopes to fill the void by taking the team to Brazil for a friendly. (This is all assuming that things go well and the U.S. qualifies, of course.) But with the 2013 calendar stuffed, any trip into Brazil would probably be in January of 2014 – at the end of that year's January camp.
"Even if it's playing local teams. Even if it's not a national team, we'll do a training game or whatever. Just to see it, facility-wise how it all works out. To try things out down there, to test it out."
There is one date open this year, a FIFA international fixture date in November. Klinsmann says that's not an option, however.
"If you look at the calendar of the European players, if you tell them you are going to play in Brazil, the clubs will do everything possible … officially they have to release the players. But they come up with all kinds of stories. So, before you have 10 cancellations, you might as well [play in Europe]. It's really crucial that you have games and that you have those players."
So assuming the United States does not finish 4th in final stage qualifying (and then facing a play-in match), Klinsmann will use the November double fixture date for a pair of friendlies in Europe.
"Then clubs are all fine, the players are all released. Clubs on board."
(MORE of the Klinsmann conversation: explaining Jermaine Jones)
(MORE of the Klinsmann conversation: Landon Donvan's career crisis)