"I don't speak about players from other clubs," West Brom manager Steve Clarke said Saturday before going on to speak about a player from another club. "But if one of my players goes down with something similar to [Santi] Cazorla, then we'll talk about it."
The Arsenal playmaker, one of the best signings of the summer window, made news for the wrong reason on Saturday, falling in the left of West Brom's penalty area after Baggie Steven Reid whiffed on a challenge.
The video:
Cazorla's teammate Mikel Arteta went on to score his first of two spot kicks, Arsenal taking a 2-0 win over West Brom.
Steven Reid talked about the challenge with BBC Radio 5 Live:
"No [I didn't touch him] and looking back at the replays even more so," Reid told BBC Radio 5 live.

"You'd like to think that even if there was a graze of a sock that's still not enough to go to ground. Even if it was that, which it wasn't, it's disappointing."

He added: "I might have had a little chat with Cazorla when I was waving a finger but I'm not sure I can repeat it as it wasn't too friendly.

"He almost looked a little embarrassed afterwards.

"I said to the referee there was no contact and he pretty much said that the intent was there, which I found a little bit strange."
More from Clarke, on the call's effect on the game:
"There was zero contact – it wasn't even close. I am not sure what the referee saw," Clarke said. "It was a bad decision for us and obviously changed the shape of the afternoon. It could have been a nervous afternoon for Arsenal. At 0-0 they hadn't created too much.

"We knew the longer the game went the more pressure would come on Arsenal and then we would have a chance. That decision changed it."
Arsenal manager Arsene Wenger's reaction:
"I am sorry if it was not a penalty, but I have spoken to Santi and he said he was touched, lost his balance. Has he made a bit more of it? I don't know," Wenger said. "When he [a player] is touched, he goes down, the referee can give or not give the penalty."

Asked if he would speak to Cazorla if he felt there had not been contact, he added: "Of course. I will look at it, don't worry."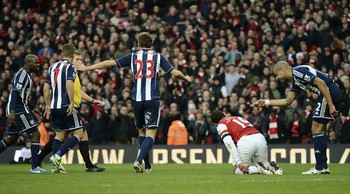 It's just a dive, it happens, and it's as a serious a problem to soccer as an exaggerated charging call in basketball, habitual holding in American football, or the inability to consistently call balls and strikes in baseball. Nothing's perfect. Everything could be better. As a team, you plan for the unpredictable.
That said, there's no reason Cazorla can't be suspended for something like this. The NBA has gone in this direction. Exaggerate fouls (flop), do so habitually, and you'll eventually miss time. The Premier League and FIFA could do the same (two years ago Juventus winger Milos Krasic was suspended in Italy for diving).
There's another part of this nobody but Steve Clarke is talking about. Mike Jones messed up. Bad. He called something that didn't happen and (to repeat a common refrain around these parts) although it's common for the repeated patterns of the game to present our first impressions with something that isn't there, referees are tasked, trained, and paid to be better than that.
So if you're going to suspend players, might as well sanction referees, too. A suspension is probably too much, but calls like these should certainly be part of any evaluation of the official's ability.