As with all things, the French tend to be philosophical about their sport. Though it would be a mistake to paint the entire population with the same broad brush, you're more likely to get the larger perspective out of a French soccer fan after results that might lead others to claims of "famous" wins or states of "crisis". For some, the approach explains why draws seem to be more palatable around Ligue 1. One match's results are too little to get excited about, especially when the score's inconclusive.
Carlo Ancelloti, however, has begun to draw conclusions from philosophers. The Milan legend who won the Premier League at Chelsea is nearing his one year anniversary at Paris Saint-Germain. When he took over for Antoine Kombouaré on Dec. 30, 2011, PSG had just used a win over Saint-Etienne to move into first place, a spot they've infrequently held since. After falling at Nancy on March 31, PSG lost their lead and eventually the title to Montpellier. They have not led the league at the end of a round since.
That Ancelotti has not faced the same scrutiny that befell Kombouaré seems incongruous until you remember who hired him. Leonardo, brought in last season to serve as PSG's director of football, chose Ancelotti, his first coaching hired in Paris. The Brazilian inherited Kombouaré, a circumstance that left the coach's job the source of constant speculation throughout the first half of last season. Ancelotti has already gotten leeway the former PSG defender never saw.
The expectations on Ancelotti, however, are higher, part of the reason the two-time Champions League winner's viability is starting to be questioned. Paris Saint-Germain enter Sunday's match against league-leading Olympique Lyonnais three points back despite another huge round of summer investment from their Qatari owners. Most notably, Zlatan Ibrahimovic was not only purchased but has dominated the league, scoring a league-leading 17 times in his first 14 appearances. Add in talents of Ezequiel Lavezzi, Marco Veratti, Thiago Silva and Gregory Van Der Wiel – all added over the summer – and concern over Ancelotti's results becomes understandable.
But if the coach is to be believed, the influx of new talent may actually be a hinderance. The burdens of expectation may not be something PSG's new players feel, according to Ancelotti:
"As coach, I have to take my share of responsibility, but the players have to do the same," Ancelotti said, per ESPNFC. "I get the impression the players feel the club's project and the problems in the team's play don't concern them.

"My players don't make a team. They're still a group of individuals. We still don't have any consistency in our game. It's neither solid nor unified. The work of a coach is to find a solution very quickly."
Hinting a solution's been found, PSG have won three in a row, a stretch that's included impressive wins over Porto (in Champions League) and at Valenciennes (0-4). Unfortunately a preceding stretch of only three victories in eight games has created a bottom line feel around the team. They may have won three on the trot, but these are the results the team was supposed to be producing all along. Why is PSG in second place? Why are they trailing Lyon?
Part of that is PSG's regression (they're on pace for fewer points than last year's second place campaign), but it would be unfair to not give some credit to Rémi Garde. After the Lyon coach suffered through his own first year struggles (OL failing to claim a Champions League spot for the first time in 14 years), the former Gones sweeper has his team on top of the league despite the club's continued overhaul. The only imports have been cast offs — Steed Malbranque finding a home at Stade Gerland, Milan Bisevac slotting into defense after becoming surplus at (ironically) PSG — but given the litany of names Garde has lost, Lyon was expected to be fringe contenders at best. Those are the expectations when a team that finished 18 points off the lead loses their No. 1. keeper (Hugo Lloris, to Tottenham), a midfield linchpin (Kim Kallstrom, to Spartak Moscow), their starting left back (Aly Cissokho, to Valencia), and their long-serving defensive leader (Cris, to Galatasaray).
Youth served
With the summer departures of Hugo Lloris, Cris, Kim Kallstrom and Aly Cissokho, Lyon has fully embraced their youth movement:
2012-13
Career
Player
Age
Pos.
GP
G
GP
G
Maxime Gonalons
23
M
16
2
89
4
Dejan Lovren
23
D
7
1
61
2
Alexandre Lacazette
21
A
15
1
54
7
Clement Grenier
21
M
11
1
42
1
Guieda Fofana
21
M
12
0
30
0
Rachid Ghezzal
20
M
4
0
4
0
Samuel Umtiti
19
D
8
0
20
0
Yassine Benzia
18
A
8
0
9
0
They were expectations Lyon president Jean-Michel Aulas set when he hired the inexperienced Garde, and although missing Champions League was a huge disappointment for a club that dominated France not so long ago, Lyon is consciously and successfully undergoing a youth movement. Of Garde's starters for Nov. 28's 4-1 Classique victory at Marseille, five were Lyon products age 23 or younger: defender Samuel Umtiti; midfielders Clement Grenier and Maxime Gonalons; and attackers Alexandre Lacazette and Rachid Ghezzal. Add in the contributions of defender Dejan Lovren (bought from Dinamo Zagreb), midfielder Gueida Fofana (Le Havrea) and attacker Yassine Benzia and you have the largest and most deliberate youth movement among Europe's major clubs.
It's a point of literary irony that it's a build from within, cut costs, shun the benefits of big buys philosophy that's proved an obstacle Paris Saint-Germain's ambition. While Lyon still has names Lisandro Lopez, Michel Bastos, and Bafetimbi Gomis among their ranks, this was once a team that had the likes of Karim Benzema, Michael Essien, and Florent Malouda. It's not quite the talent currently patrolling the Parc de Princes, but there was a time that OL's talent lapped the Ligue 1 field, one of the main reasons the club won seven straight titles through 2008. For the last two years, the talent advantage has lied with the Parisians, yet they lost last year's race to an undermanned Montpellier and trail a reconfiguring Lyon as we approach this year's break. (Aulus recently conceded all of Lopez, Basots, and Gomis could still go as the team looks to further reduce payroll.)
But Lyon's reconfiguring has gone beyond mere roster turnover. On the field, Garde has settled into the 4-2-3-1 formation that never took hold last season. In the past it would have seemed a counter-intuitive approach, a setup that isolates OL's best player (Lopez) out left, but given Lopez's fitness concerns and the depth and variety of talent Garde has in midfielders and wider attackers, it's been the team's best approach. The resulting system has gotten the most out of Gomis, one of two double-digit scorers in France, while promoting a possession game that's helped drastically reduce the team's goals allowed (Lyon's conceded 16 in 17 games after allowing 51 last season).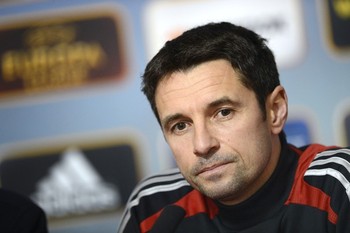 It's all part of a year's worth of hard-earned lessons for Garde (right), who has no head coaching experience before being appointed by Aulus. But seeing how Garde's grown after one year on the job,  it's worth asking whether Ancelotti could do the same. But the PSG boss has always enjoyed strong starts at his previous stops, something that makes his PSG experience all the more concerning. And the Parisians aren't a side in the middle of scaling back a once dominant operation. They're building to not only win in France but to compete at a level which will make them a global brand. Ancelotti was hired to bring immediate success, not implement a process.
This is why, as Andy Brassell points out today in The Independent, the French media has started to be brash about a post-Ancelotti future. L'Equipe, France's sports daily, has reported PSG's management has already sounded out Pep Guardiola, with long-time link Arsène Wenger and Real Madrid's José Mourinho also in frame. The recent, thin support of PSG president Nasser al-Khelaifi ("Today, Carlo is here" he said after the Porto win) left little doubt the Italian's future is being evaluated.
Consider the implications if Paris Saint-Germain lose on Sunday. They'll trail going into winter break, six points back of Lyon. There'll be no three-match winning streak to assuage doubts. Worse for Ancelotti, there'll be a two week break that will allow the Qataris to ask the question normally reserved for presidential elections: Are we better off than we were before?
Even if PSG draw, it's hard to see that answer coming back as yes. Despite far more talent, the Parisians aren't getting noticeably better results. Perhaps ownership will fall back on Ancelotti's Champions League success as reason to retain him through the European season, but where their evaluation of his predecessor was clinical and cold, Ancelotti would be fortunate to survive the holiday season without a win over Lyon.
One game's results might be harder to get worked up about in France than other cultures, but there's little doubt Ancelotti needs to win on Sunday. But if we look back on the circumstances of Antoine Kombouaré's dismissal, even that may not be enough to avoid change in Paris.