If you watched their meeting on Dec. 1, you might not be too excited about another Bayern Munich-Borussia Dortmund meeting.
That may overstate things. Who wouldn't be excited about Bayern meeting Dortmund, a rivalry that's quickly developing into a Champions League final-level matchup. If you can't get excited about that, you're probably making your last accidental visit to ProSoccerTalk.
But there are reasons to believe the rivalry's matches have reached a type of strategic stalemate. Jurgen Klopp (above) has always had his team play on the counter against the Bavarian giants, but just over two weeks ago, the Dortmund boss took it to another level. BVB didn't have their usual verve coming out of their own end, and while they recovered from a slow start to carry a large part of the second half's action, the defending champions showed little of the nous that saw them rout Bayern 5-2 in last May's German Cup final.
After this week's results, the two Bundesliga titans have been drawn together in the quarterfinals of this year's Cup, the rematch set for the last week in February. Slated to be played at Munich's Allianz Arena, the game could end up a carbon copy of the cagey, disappointing affair that was played out at the beginning of the month. Both teams, having reason to think their approaches could be successful when reloaded, have little incentive to change tactics, and with the psychological stakes of the rivalry seemingly increasing with each meeting, neither side has an incentive to sacrifice risk aversion for entertainment. Bayern will play controlled if progressive. Dortmund will live on the counter.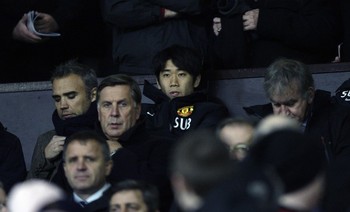 In the recent past the approaches have produced great matches, but although the latest meeting was far from disappointing, something seems to have changed. For Dortmund, the now-departed Shinji Kagawa (below) was critical to Klopp's approach against Bayern, so while the likes of Mario Götze and Marcos Reus are more than capable of making up from the Japanese international's move to Manchester, Kagawa's loss is disproportionately felt when facing Bayern. His influence in executing BVB's counters is missed when Klopp chooses to live on the break. Combined with the reticence of a Bayern side that hasn't won a competitive match against Dortmund since Sept. 2009 and you have a recipe for regression, at least as far as the entertainment value is concerned.
The situation is not unlike what we briefly saw recently from the Barcelona-Real Madrid rivalry in Spain, particularly during Jose Mourinho's first year in La Liga. While it'd be too lazy to map either Spanish team directly onto a German counterpart, the adjustments Mourinho made to Real Madrid's normal approach when facing Barcelona can be likened to Dortmund's against Bayern. El Real changes were far more extreme – Mourinho's 2010-11 team employing a highly criticized defensive approach in his second Clasico – but the departure from their regular, progressive approach was not dissimilar to the compromises Klopp has made for Munchen.
Under normal circumstances, a Dortmund team with more talent than their Bundesliga opposition can dictate the game. They may also be capable of doing so against Bayern, but it would be with greater task and uncertain benefits. After all, playing on the counter has led Klopp to his recent dominance of Bayern. Why would he want to change that before it's shown Bayern can beat them?
The only potential game-changer is a stocked Bayern team that possesses more options than Jupp Heynckes had last season. Theoretically, a team with this type of talent is capable of forcing adjustments from anybody.
But even if Bayern's stocked squad can finally overcome Dortmund's, that wouldn't necessarily dictate a change from Klopp. After all, BVB could both lose to Bayern and be employing the strategy that gives them the best chance to win. If Bayern's team is really talented enough to break Dortmund, Klopp may have to take solace in the best of bad options.
But ahead of February's meeting, there is no reason for Klopp to change. Having already taken a point from the Allianz  this season, Dortmund maintains the psychological edge, leaving Germany's best rivalry at a temporary point of diminishing returns. The meeting still has all the drama. The stakes, tied to the preeminent spot in Germany's soccer landscape, continue to transcend the matches' competition. And the quality of both squads continues to improve.
Yet if you look at the last meeting and evaluate the current state of German soccer, we're likely to see less interesting chapters in the Bayern-Dortmund rivalry, at least in the show term. Something's going to have to give before either team breaks from the Dec. 1 model.