Boxing Day is more than a vaguely named holiday (disappointingly, it has nothing to do with pugilism). It's also the day where Sky, BBC, and ITV producers lose a year off their lives as they futilely try to cover every team in English soccer.
With some rare cancellations (i.e., West Ham-Arsenal), every club in English league soccer will be in action today. That's 55 matches, 48 of which start at 3:00 p.m. local time. It's excessive. It's indulgent. It's the holiday season is a huge, pie-encrusted nutshell.
But, for countries that don't celebrate the holiday, that's we know Boxing Day. It's the day we wake up from our holiday sojourn to find the Premier League's comeback with a vengeance. A whole round's worth of action, normally spread out across two or three days, transpires in seven hours. And your family doesn't want you to watch.
It's pretty much why the internet was invented. Can't watch more than one game? Go to Twitter. Want to watch more than one at once? Have credit card, can access. Throw in the fact that it's the nadir of college bowl season, one day after the NBA's showcase, and four days before the NFL resumes, and this year's Boxing Day is sure to get plenty of coverage.
Here's the start, our brief preview of the day's nine matches:
10:00 a.m. Eastern kickoffs
Everton (5th) vs. Wigan Athletic (18th) – The Toffees will be without Marouane Fellani, given a three match break for trying to erase Ryan Shawcross. Everton will have Darron Gibson at their disposal, the former Manchester United midfielder winning the appeal of the red card he saw last weekend at West Ham. Then, Everton got a come from behind victory at the Boleyn Ground, giving them seven points from their last three matches. Wigan, as is their custom, will continue to struggle at the edge of the drop until Roberto Martínez concocts their year's solution for survival.
Prediction: "This would have been different with Fellani" analysis beaten into the ground by full time.
Fulham (13th) vs. Southampton (17th) – This will be the most entertaining match of the day. Both Martin Jol (Fulham's manager) and Nigel Adkins (Saints' boss) are committed to playing progressive soccer. Unfortunately, it's done neither any good this season, though you could argue Southampton (currently above the drop) are living out a best case scenario. Fulham clearly is not. After three losses in four, the Cottagers have scarcely looked like the European contender they were through the season's first months.
Prediction: At least four goals, and at least five points where Dimitar Berbatov appears to be smoking a cigarette.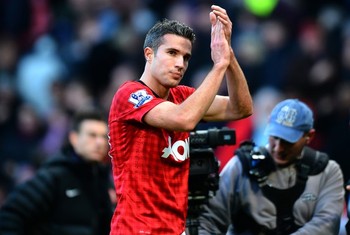 Manchester United (1st) vs. Newcastle United (14th) – Magpies supporters got a reprieve last week thanks to Shola Ameobi's late goal against Queens Park Rangers. Ultimately, it was just a home win against one of the league's worst teams. Now they go to Old Trafford after the Red Devils were humbled in Wales. So … good luck with that. Alex Ferguson gave Newcastle some bulletin board material by implying without last year's "surprise" factor (his theory), the Magpies aren't actually that good (my inference). They're unlikely to be famous last words.
Prediction: No attempted murders.
Norwich City (10th) vs. Chelsea (3rd) – Perhaps passing along Chelsea was part of the Paul Lambert settlement. Aston Villa, still pulling their pants up from Sunday's spanking, send the Blues to Carrow Road with the hopes some of the goals Brad Guzan was able to stop end up behind Mark Bunn. For the Blues, it's a chance to solidify momentum won at Stamford Bridge. They're part of a difficult stretch of that will see Norwich (after losing last weekend at West Brom) host Manchester City and visit West Ham after Chelsea leave town.
Prediction: Critical "Oh, there [Luiz] goes, again," followed by amazed "Oh, there he goes, again!" Potentially within the first eight minutes.Without any self-awareness.
Queens Park Rangers (19th) vs. West Bromwich Albion (7th) – This is the lump of coal in our Boxing Day tin. Queens Park Rangers have been too bad to enjoy, even after Harry Redknapp's approachreplaced Mark Hughes' tendency to deploy teams as scared than their coach. West Brom is back on the road less than two weeks after being party to a match debated as the worst of all-time. Unless Romalu Lukaku, last weekend's hero, has discovered some unexpected consistency (dude's only 19 years old), this could rival Dec. 16th's movement at Upton Park.

Prediction: West London praying for Atreyu's help.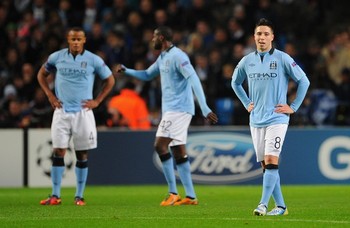 Sunderland (15th) vs. Manchester City (2nd) – Temper your shock, but the Citizens again failed to inspire last week. The holders needed some Gareth Barry heroics (and some 'look the other way' officiating) to take full points at home against the league's worst team. If they play the same way at the Stadium of Light, Manchester City loses. Yes, even to Sunderland, whose uninspired play continues to be an argument for an artistic integrity element in each final score. Who would have thought figure skating would have the competitive high ground on soccer? Thank you, Martin O'Neill.
Prediction: A disproportionate coverage-to-entertainment ratio.
Reading (20th) vs. Swansea City (11th) – The good news for Reading after last weekend's heartbreak is an entirely possible rumor linking Arsenal's Andrei Arshavin to the club (though that's more likely to be a loan than an outright sale). Unfortunately, with only nine points from 18 games, the Royals need more than a Russian international to save them from regressing to the Championship. And while hosting Swansea City may seem like an opportunity to pick up points, Swans have been a relatively strong road team this season. Bringing the league's leading scorer (Michu) to the Madejski Stadium, the worst defense in the league will have to transcend their regular performance to give Brian McDermott a chance at full points.
Prediction: Michu continues to justify his impending Spanish national team callup.
12:30 p.m. Eastern kickoff
Aston Villa (16th) vs. Tottenham Hotspur (6th) – There's an ominous air to this one for Villa. Spurs, one week after being frustrated by the inherently frustrating Stoke, have the feeling of a break out about them, with Clint Dempsey's availability and Gareth Bale's return (starting last week) giving André Villas-Boas a full attack at his disposal (an attack that's now linked to Wesley Sneijder). Though Villa's only allowed eight goals in as many games at home, they have the worst attack in the league and, at some point, their poor road defending (16 goals allowed in nine non-Chelsea games) is bound to bleed home. Against a team that may play two deep midfielders in front of an athletic defense, success on the counter won't be as easy won as it was at Anfield.
Prediction: The first real questions about the Paul Lambert era in Birmingham.
2:45 p.m. Eastern kickoff
Stoke City (9th) vs. Liverpool (8th) – Say what you want about Liverpool, but they've consistently produced compelling, entertaining (though not necessarily effective) play. And say what you want about Stoke, but they haven't, but since Sunderland hasn't been successful in showing why figure skating judges need to be deployed at soccer grounds, Tony Pulis's methods may continue to prosper. Serving as the soccer world's answer to Big 10 basketball, Stoke has the league's best prevention rate while tying for its worst scoring rate. Facing a team that only recently discovered how to score goals, the Potters should improve on their three home goals allowed through eight games.
Prediction: Shawcross versus Suárez more explosive than Potters versus Reds.