This space has occasionally made light of England the English media's quest to anoint Joe Hart the best keeper in the world, but until this year, the cause had always been excessive excitement about a player who, while clearly a small step behind the world's elite, gave his home country plenty of reasons to be proud.
But this year, the Manchester City keeper is in the middle of bad season, a series of misreads and outright gaffs undermining his countrymen's campaign. The most famous of these mistakes may have come in a meaningless game, but the fame of Zlatan Ibrahimovic's goal rightly brought attention to the fact Hart hasn't been very good.
Today wasn't the first time this season Hart may have cost City points. It was just the more egregious.
Tied 0-0 in the second half against an impotent Sunderland, Hart was challenged from long and wide by a speculative Adam Johnson shot. Only the challenge wasn't very strong. Headed for the bottom right corner, the ball should have been caught. Or blocked. Or generally prevented from becoming the game-deciding goal, provided any degree of goalkeeping competency.
But Hart's competency had left him by the time Johnson let go of his shot. Badly out of position, Hart needed a quick leap to have a chance. But allowing himself to be screened, the England international reacted too late. Johnson's shot curled down and into the corner, giving Sunderland the goal they needed to hand Manchester City an embarrassing defeat.
It was Johnson's first game against the team that sold him this summer, his goal proving manager Roberto Mancini was wrong to assume he wasn't needed. Though Johnson would have been unlikely to get time on the wing, he would have done to stop that type of shot. Most players would have.
But Hart wasn't Manchester City's only Wednesday failing. In front of him, the team continues to play uninspired soccer, showing little of the drive that shot them out of last year's gates and toward their first Premier League title.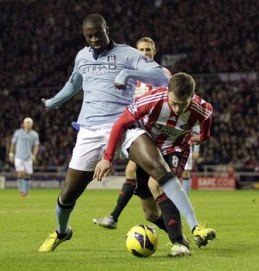 The squad has the look of a team that needs shaking up, their lethargy and disinterest agonizingly apparent as they offered no resistance at Dortmund, fell behind early to Manchester United, needed a swallowed whistle to get full points from Reading, and lost on the road to a bad Sunderland team. That's four of their last five meetings.
MORE: Manchester United: Flawed and fabulous
Most discouraging for City may be the merely mortal performance of Yaya Touré, though to say he's been a Hart-level disappointment would be an exaggeration. The Ivorian has simply failed to carry the team as he did down the stretch last season, forcing us to ask whether City can challenge for a title when Touré is not playing like the best player in England. Because it may not be fair to ask for such consistent greatness from any player, particularly when they'll spend half the winter in at the Africa Cup of Nations.
At every point of comparison, Manchester City is worse than they were last year. In league, they're six points off last year's pace (and seven behind United). In Europe, they failed to even qualify for Europa. To the eye, they seem more talented but less capable than the team that tracked down the Red Devils last May. They're adrift, if not in the standings then in spirit. This is not title-contending form.
Then there's Mancini's continued fascination with a 3-5-2 formation, something he never used during last year's better times. That comparison is important because at no point this season has City looked as good as they did when they tinkered instead of overhauled. The choice to start with three at the back at Sunderland reeked of the same desperation we saw last week from José Mourinho.
And just as Real's loss at Málaga forced us to consider Mourinho's viability at El Real, so does Mancini's defeat at Sunderland compel consideration of his future. Only unlike Mourinho, these doubts are not new. Ever since Mancini failed to prepare his team for Ajax in Champions League, his suitability for City should have been in doubt. Now, as Manchester United seems ready to stumble into their typical winter surge, City management must ask if Mancini can keep up.
With a squad that looks desperate to be shaken up, almost anybody else will do. And City has the virtue of being able to lure elite managerial candidates.
Unless the thinking around Eastlands is Chelsea-esque uncertainty might scare Pep Guardiola (or José Mourinho) away, there seems little to endear Mancini for this job. With his capabilities laid bare three years into the job, Mancini must improve results before Sheikh Mansour makes a move.