Hoping to make a play to get back into his national team, Seattle forward Fredy Montero is weighing a temporary move back home, according to reports out of Colombia.
The rumors give some backbone to gossip that's persisted throughout December, though given some of story's vagaries  it's unclear whether this is more than run of the mill.
As reported by El Pais, a source close to Montero claims Millionarios of Bogotá have made an offer to the 25-year-old attacker, who is considering a short-term move with the hopes that he'll draw the attention of José Pekerman and the Colombian national team.
According to the source, "It's no secret MLS is not attractive to the [Colombian national team coaches] … [Montero] wants to be there so they can see him and give him an opportunity to be a part of his country's national team.
The report said the proposed deal is only a six month loan, one which would see Montero miss the first three months of the Major League Soccer season. According to the source, Montero "wants to [move] for the [Apertura], because MLS starts in March and he wants to stay active."
Montero would only consider moving back to Millionarios, not any other clubs in Colombia.
There is, however, something about this story that doesn't add up. The idea that Major League Soccer would be looked down on my an international coach isn't shocking, but Pekerman doesn't appear to be that man. He has called in Philadelphia's Carlos Valdes, starting the defender for recent World Cup qualifiers.
Perhaps the thinking is Valdes is too good to leave out regardless of the competition, but the same logic could apply to Montero. Major League Soccer doesn't appear to be the problem.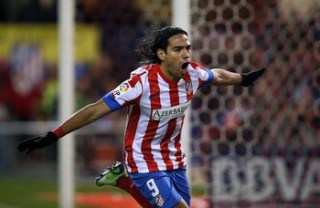 What's really keeping Montero out of the national team is Colombia's attacking depth. Montero's not going to take playing time away from Radamel Falcao (Atlético, right), Jackson Martínez (Porto), Teofilo Gutierrez (Cruz Azul) or James Rodríguez (Porto), Pekerman's first choice attackers. Parma's Dorlan Pabón and Santos Laguna's Carlos Darwin Quintero are also regular call ups. No matter where Montero plays, Colombia still has a longjam in attack.
That's why the international team angle doesn't add up. Perhaps Montero sincerely believes playing in MLS is hurting his national team chances. Or maybe his thinking is more innocent, believing some games in Bogotá that gave him exposure to Pekerman couldn't hurt.
But nothing he goes in Bogotá is going to convince Pekerman that Montero should be taking time away from the likes of Falcao, Martínez and Rodríguez. The inconsistent logic about exposure in MLS plus the suggested length of the deal also suggest this story's either make up or Montero's angling for more than a mere loan arrangement which would go over better back home should a permanent move fall through.
Given how Montero ended the season (coming off for David Estrada against the Galaxy) and the Sounders' tight cap situation, selling the franchise's all-time leading scorer shouldn't be out of the question. With Steve Zakuani set to return and Christian Tiffert set for his first full season in North America, the Sounders could justify letting some goal scoring go should they decide not to replace it with the Designated Player spot Montero's sale would free up.
But this is all rumor, inference, and innuendo. El Pais's source is unnamed, and no matter how much it makes sense in the abstract, Seattle would have to think long and hard before letting Montero go out on loan. Let alone sell him outright.