The announcement stood in stark contrast to the rest of the league's appointments, to the extent there were any. With many of the new National Women's Soccer League's teams having participated at some level of last year's U.S. Soccer "pyramid," most coaching staffs were in place when teams signed up for this latest attempt at top-flight women's soccer. Of the vacant spots, FC Kansas City hired from their partner's Major Indoor League team while the Portland Timbers' women's instance (Thorns FC) created a few ripples by hiring former national team star Cindy Parlow Cone.
The neophyte Seattle Reign took a noticeably different approach, one which saw the team look beyond the confines of the U.S. domestic landscape for somebody who would qualify as a bombshell, if such things exist in the world of women's club coaching hires.
"Initially reaching out, you never know until you try," is how Reign FC general manager Amy Carnell described the club's coaching search, one that ended with the unlikely Dec. 21 hire of Laura Harvey.
Lured to the Pacific Northwest from Arsenal LFC, Harvey is one of the most compelling names you could conjure as a possible NWSL hire. The 32-year-old (now former) Arsenal Ladies coach saw defeat only twice in 48 games during in her two Women's Super League seasons, capturing both of the nascent league's titles. In UEFA Champions League, Harvey had recently steered her side past German giants Turbine Potsdam in the competition's knockout stages, a notable victory considering the recent successes of Frauen-Bundesliga clubs (and England's lack of results). As difficult as it was to raise the stakes for a team with Arsenal's success, Harvey was doing it, creating a continental power from a team that was losing ground to the Lyons, Frankfurts, and Turbines of the region.
Because of the lack of exposure for the European club game has in the United States, Harvey's accomplishments are unlikely to be appreciated. For most Puget Sound residents that will see Seattle's first NWSL games, Harvey is a non-factor. That doesn't make her résumé any less remarkable.
"What she's done at Arsenal is unprecedented," Carnell explained. "The thing that's most impressive about Laura is how well she works under pressure. She knew [there would be pressure] going into the Arsenal job, and to have the success over the past few years that she's had is incredible."
"One of the most appealing things about Laura was her ability to manage big players – to manage egos." With Arsenal stocking the likes of Kelly Smith, Alex Scott, Steph Houghton, Katie Chapman and Rachel Yankey (all England internationals), 'loaded' would be an understated way to describe the Lady Gunners' advantages.
"That was one of our priorities in bringing in a coach," Carnell explained. "Depending on what players we get, we want a coach that those players are going to respect and a coach that's going to be able to manage a big star all the way down to a star college player in their first year as a pro."
In England
Arsenal LFC has won both WSL titles, scoring the most goals while allowing the fewest over the short history of England's eight-team league. As the two-year goal differences illustrate, the WSL has played as a very top-heavy and stratified league.
| Pos. | Club | GP | W | L | D | Pts | GD |
| --- | --- | --- | --- | --- | --- | --- | --- |
| 1 | Arsenal | 28 | 20 | 2 | 6 | 64 | +41 |
| 2 | Birmingham City | 28 | 15 | 3 | 10 | 55 | +29 |
| 3 | Everton | 28 | 14 | 6 | 8 | 50 | +10 |
| 4 | Lincoln Ladies | 28 | 11 | 9 | 6 | 39 | +0 |
Not that there aren't risks that come with importing Harvey. Only 32, Harvey may be younger than some of her Reign players, depending on the results of allocation and recruitment. That wouldn't be a completely foreign position for her, having managed a star-studded team at Arsenal, though the talent at Harvey's disposal brings up another concern. Arsenal was far and away the most talented team in the WSL, their dominance of their domestic league more obligatory than surprising. In the United States, there's no guarantee Harvey will have such luxuries.
"I believe in people's abilities to do their job," Carnell said when asked why she feels Harvey can adjust to a more competitive environment. "It's passion and work-ethic. If you have those two things, I think you can be successful, and she obviously [has them]."
But criticisms about inexperience and talent advantages may miss the point. At least, in the big picture — looking beyond the immediate win-loss-benefit of the move — competitive factors aren't the only considerations. Ambition matters, and for a team yet to play a game, so does reputation – prestige.
For the Reign, Harvey's signing is a symptom of a club looking beyond the early, relatively modest origins of the NWSL. The team's looking toward a success that transcends the league's modest goals.
"The vision is Seattle can be something much bigger," Carnell says.
"[It's about] building out a vision of this brand and not just being a leader within our own league. The long term goal is to be one of the best clubs in the world and be a recognizable brand."
Seattle has a long way to go to be considered in the same breath as European champions Lyon Feminine or even WSL titans Arsenal. But with the hire of Harvey, it's difficult to imagine the team making a more compelling first step.
"Part of my talk with Laura was just selling her on what we're looking to do here," Carnell explained. "She's very much on the same page with where she wants to go in her career, as well."
That attitude's a reflection of the drive Seattle group's shown since first appearing on the women's soccer map last summer. Then, owner Bill Predmore emerged as somebody surprisingly willing to fight for a second team in Seattle. At the time, the Sounders Women (a team using Sounder branding without being a direct offshoot of their Major League Soccer namesake) had just completed a W-League season featuring the likes of Hope Solo, Alex Morgan, Megan Rapinoe, and Sydney Leroux. Many assumed that whatever women's team surfaced from the area, it would have the Sounder label attached. That the Seattle-based POP media agency owner was willing to challenge that brand while embracing some financial risk (implying he'd lose money to grow the game) made Predmore an early, refreshing face on what would evolve into the NWSL landscape.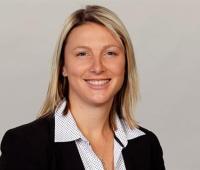 "Bill Predmore, the owner, and I want to think out of the box," Carnell (right) explained, trying to find words to describe the approach that led to Harvey's hiring.
"The biggest thing is that we want to deliver to our fans a top-tier coach and world class players. We believe our fans here in Seattle deserve that … we're trying to do it the right way and build a world class brand here in Seattle. That's the direction that we're going, and if we want our fans to know anything, it's that."
They're sentiments that would be dismissed as perfunctory in most leagues, but for the NWSL, it's a refreshing show of ambition – an attitude that's been tacitly verboten since the league was announced. In different ways, ambition by the Women's United Soccer Association (2001-2003) and Women's Professional Soccer (2009-2011) undid previous attempts to make a league work. With that in mind, it's understandable the U.S. Soccer's venture has maintained a more limited perspective.
But the Reign are in a very competitive market. They will be competing with another women's team (the Sounders Women still intent to field a team in the lower-level W-League) without the benefits of the Sounders' extremely powerful branding. Making as many splashes as possible will not only keep the Reign in Seattle's soccer conscience, it will also help the club stay in step with what's sure to be another wave-making team 200 miles to the south (Portland).
In that regard, Seattle may have already gotten an early (though potentially insignificant) leg up. Though Portland hired a former U.S. national team legend, Reign FC made a hire that could transcend any impact made on the field. Because even if Harvey fails to adjust to whatever challenges NWSL soccer presents, the coup announces Seattle as a club willing to transcend expectations. They're willing to be great, or at least try.
That's what these types of moves are about.