Leave it to FIFA to create an hour of needless content around two revelations that could have been zipped up in about four minutes – and that's with both acceptance speeches!
But never mind that. Abby Wambach won her first FIFA Women's player of the Year honor (congrats!) and Leo Messi claimed his unprecedented fourth Ballon d'Or.
Yup … dancers, weird mascots, bad speeches (along with a few worthy moments, if should be said) all to find out that Messi had outdistanced Cristiano Ronaldo (the only real competition, it should be said) for the 2012 world honor.
(MORE: No suprises, as Leo Messi wins at unprecedented fourth)
Here are some other memorable moments and facts to consider (of the completely random nature):
Messi was not listed on 52 of the 508 official ballots. Fools. Just fools.
For the record, Ruud Gullit is the only former MLS manager to ever host a FIFA Ballon D'Or ceremony.
Sepp Blatter's speech to open the ceremony would have raised indignant cries of "hypocrisy" or even "ignorance" … if it wasn't just so comically bad.
If you're interested, U.S. manager Jurgen Klinsmann voted Messi first, Andrea Pirlo second and Cristiano Ronaldo third. All the ballots are here.
If I find the man or woman who said, "Dancing! We need more dancing at the ceremony! … Maybe even some shirtless men throwing fake kung-fu!" … we are going to have words.
So as not to sound like a total FIFA basher, the video mash-up of former player of the year winners, which included some wonderful, old footage, was pretty sweet.
In case you were wondering, the man conducting interviews for FIFA's official feed on the red carpet before Monday's announcement thought U.S. women's national team players Alex Morgan and Hope Solo were beautiful and were wearing beautiful dresses. He didn't feel the need to say something similar about the handsome, fit and well-dressed men he interviewed. It seems that the sexist attitudes around world soccer's governing body trickle down from the top.
I'm not quite sure what to say about Messi's seriously fancy outfit. Polka dots, yo!
Speaking of wardrobe, here's what blogger-funny man-good dude Shawn Francis said about Brazil's Marta, who was up for Female Player of the Year: "Marta wearing Tina Turner's dress from the Private Dancer tour, I see." Good one, Shawn!
Zlatan Ibrahimovic's stunning goal against England wasn't even among the nominees for FIFA Goal of the Year … which delegitimizes the award in my mind. No reason to even talk about it.
Spain's Vicente Del Bosque was named Men's Coach of the Year.
Former U.S. manager Pia Sundhage was named Women's Coach of the Year.
Singing! Of course, there had to be singing!  At least one tune was of the unscripted variety, as Sundhage sang out a nice, quick little tribute to Alex Morgan and Wambach in the audience, essentially saying she was there because of players like them. A very nice touch. And very, uh, "Sundage."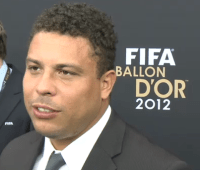 Someone said the song was Olivia Newton John's "If Not For You." I cannot confirm this. And if I could, I certainly would not admit it.
Two-time Ballon D'Or winner and former Brazilian great Ronaldo (pictured) is only 36, but he has added so much weight, he is nearly unrecognizable.
Gullit, 49 minutes into the ridiculously, overly long ceremony: "The tension is mounting!" Uh, no … it really wasn't. Whatever tension might have been linked into this one (truly, not so much) leaked about around the time the Brazil 2104 mascot went bouncing around on the stage. Or when Gullit put on a Gullit wig. (He really did that.) Or when some lady nobody knew sang a song nobody knew. Or when … oh, you get the message.