PORTLAND, Ore. — It took five months for him to finally touchdown in the Rose City, but once he did new head coach Caleb Porter laid out an unambiguous vision for the Portland Timbers' future. Sitting next to a general manager (Gavin Wilkinson) who described his club as having "very, very high expectations and lofty ambitions," Porter was unflinching while playing into the hope his new hiring's created.
He addressed the skepticism born of the U-23 failing. He talked about his reputation for playing attractive soccer. He talked about why he chose Portland and the futures of high-profile players Kris Boyd and Darlington Nagbe.
Here are some of the big takeaways:
Portland was the right fit at the right time.
"In some ways, I was uncomforatble being comfortable at Akron," Porter said, a unique way of saying it was time for him to go.
The move was the culmination of a 13-year journey he knew would end in Major League Soccer.
"As I started my coaching career 13 years ago, in the back of my mind I had the goal of getting back here to be a professional coach in Major League Soccer. I didn't know if it would happen. I didn't know when it would happen or how it would happen. But that was always a goal that I had in mind."
But as D.C. United found out three years ago, Porter wasn't going to leave Akron for just any opportunity. Portland, however, was the complete package for the Porter family.
"I certainly had a few other opportunities, but this was the one that was the best situation for me and my family, to come and join this wonderful community. For a lot of reasons, this was the right fit.
"We have the most passionate supporters in Major League Soccer. That was very attractive to me. We have a owner/president and a general manager who have a long term vision for success. Their philosophy, their vision was in line with my philosophy and vision. That's very important to have that right marriage."
What problems from 2012 need to be addressed first?
Porter tried not to speak of the past, but in talking about the changes he planned to bring to the team, comparing goals to failures was unavoidable.
"We need a little bit more experienced — not a little bit, a lot more experienced — locker room," Porter said after initially explaining a reluctance to dwell on 2012. "Where you have guys who have been through this very unique league and season, where there's a lot of travel, different climates, altitude. It's not easy."
Bringing in Will Johnson? Michael Harrington? Ryan Johnson? It addresses that need.
"These are guys that have been six, seven year pros in Major League Soccer. You know what you get out of them."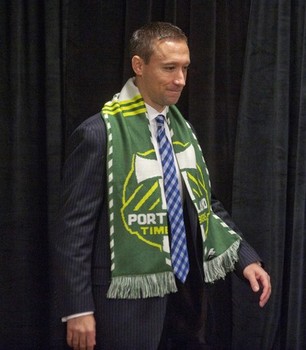 How will Portland play?
Make no mistake about it – Porter is bringing his much-discussed philosophy with him to Portland. While he said he's not going to be "naive" about making hasty changes, Porter made it clear that a possession game intent on "dominant" play is the goal.
"We're going to approach every game from the standpoint of what do we need to do in this game to win."
But the Timbers will work toward playing the Porter way.
"Any good coach should have a philsosophy of how they approach the game, of how they approach training, and that's a big part of the blue print, every single day."
"Blue print" came up a lot on Tuesday, as did formulas and identities.
"If you look in Major League Soccer, the most successful teams have continuity. They have a formula they follow. They have a clear identity, and we will have a clear identiy here. We will have a formula we will be following, and you will see continuity. You'll see consistency and ultimately, every decision we make will be based on that way we are going to be playing."
"If we're going to be a team that's consistenly winning games, we need to move in a direction where we are the dominant team. … if you control major portions of the game, you increase your chances of winning consistently, and that's the only reason I believe in the philosophy that I have."
Does that mean the Zips' formation will come with him from Akron?
What formation?
As Porter pointed out in the press conference, he adjusted formations as his personnel fit. For five years, he played a 4-4-2. For two others, he played a 4-3-3, a formation that's erroneously been linked to his style of play.
Looking at the moves Portland's made this offseason, the Timbers are setting up as a 4-4-2/4-3-1-2 (midfield diamond) team. But Porter made it clear he'd like to develop multiple options.
As Darlington Nagbe described it early last season (before Porter was announced as head coach of the Timbers), Porter's is a philosophy that adapts the formation to the available players. When Nagbe was at Akron, he played a playmaker's role that took advantage of the talents of Steve Zakuani and Darron Mattocks.
It's not difficult to see a similar provider's role crafted behind Ryan Johnson and Bright Dike, a role that could leave the Timbers looking like Will Johnson's former Real Salt Lake team.
What does that mean for Darlington Nagbe?
Clearly the most talented player on the Timbers, Nagbe was a big part of Tuesday's conversation. Is Caleb Porter the man that can bring the young star to his full potential?
Porter never said those words, but he did say he feels he has "buttons" he can push to get Nagbe to where he can be. And while the new coach was mostly complimentary of what Nagbe's accomplished in over two MLS seasons, his former Akron coach is going to expect more out of him in 2013.
"In some ways, the youth of this team put more pressure on him to produce and perform, and he maybe hasn't handled that as well as he should have, in terms of carrying the team. But he's also a young player. There needs to be a little bit of patience for that, as well."
"Going into his third year, [there are] going to be high expectations of him. I certainly expect him to perform."
"I do know his talent. I do know what he's capable of. There's a trust there."
And where does Kris Boyd fit in all of this?
He's the club's most expensive player ever, but Kris Boyd has no role in Porter's system. That Porter even addressed the touchy subject — let alone showed some brutal honestly while doing so — as a signal to Boyd, his representation, and the league. Kris Boyd won't fit in Portland.
"After watching him play quite a bit, and I have watched this team play quite a bit, Kris Boyd is a player that I think will have a hard time playing the way we want to play," Porter confessed. "With what I want out of my strikers, it's going to be very difficult for him to offer what I'm looking for in that position."
It's no surprise. Nobody is going to mistake Boyd's style for Zakuani's or Mattocks'.
Though Porter didn't close the door (later saying Boyd can prove him wrong), he might as well have. It was a shockingly frank confession within the context of an introductory press conference.
Yes, coach, but what about Nashville?
It was one of the first topics that came up once the press conference was open for questions, the one blemish on Caleb Porter's otherwise stellar coaching record: Why didn't the U.S. U-23s make it out of their first Olympic qualifying group, let alone challenge for a spot in the Summer Olympics?
It was one of his longest answers of the day, but one Porter was honest about, forthright, and prepared to give:
"There as a lot I took away from it. It was a five-month process. I knew it was going to be a high-profile, high-pressure job. I knew it was a tricky qualifying format. But again, I don't avoid challenges. For me, it was an opportunity. I look at not what could go wrong, but what could go right.

"And in the end, it didn't go right. I take responsibility for that. We failed. We didn't qualify, and in my role as the coach, I take responsibility for that.

"But there was a lot of the process that went well. Overall, our record was 6-1-2, believe it or not. A lot of people wouldn't remember that, nor would I want them to. Obviously, they're going to remember the end. Including friendlies and everything, we were 6-1-2.

"In the qualify format, which is very tricky to be able to navigate, three games in five days, we were 1-1-1. That meant we got four points and that meant we didn't go through.

"And that made it very difficult because the process was comfortable. It did go very well. Those are things that no one will know other than the players. But again, I think if you ask the players they'd say it went very well. They were prepared thoroughly. They were on boeard 100 percent.

"The Mexico game – the game we won 2-0, even though it was a friendly – they were the eventually Olympic champions, and not only did we win 2-0 but we controlled a majority of the match. For me, that was reinforcement of all the positive things that were going on.

"There were certainly things that I would do differently. Like any good coach, you're continually eventuating yourself, your team, things that you can do better. There always needs to be a reflection, and there was a reflection on this process. I put together an extensive technical report that I presented to US Soccer with all those details.

"There were a lot of things that yes I would do differently. A lot of things I learned in the process. But there were a lot of things that went very well, too, a lot of things I would do the same. Overall, it was a great experience, one that will certainly helped me make this move.