Just moments ago, Fredy Montero eliminated what little doubt remained. Though the Seattle Sounders and Major League Soccer have yet to confirm his loan-to-buy deal to Bogata's Millonarios, the team's all-time leading goal scorer tweeted out his goodbyes on Wednesday, apparently set to return to Colombia: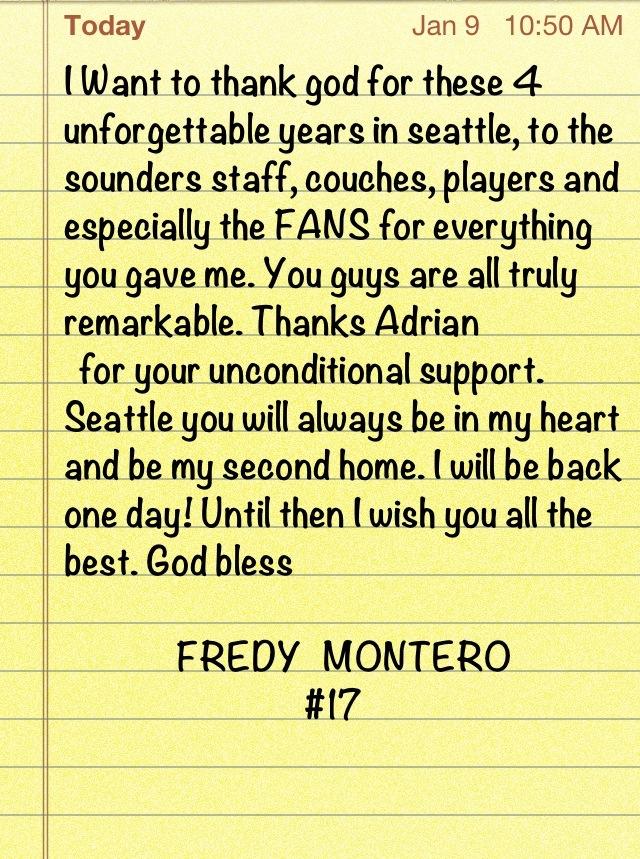 The team's only been in Major League Soccer for four years, but as one of the few players who has appeared during each MLS campaign, Montero is seen by many as the best player in franchise history. His 47 goals are a franchise record, and while his struggles in the playoffs have been well-documented, Montero led to Sounders to four consecutive post season appearances.
Seattle has enough depth to be competitive without Montero, which is not to say the team won't miss him. Still, it was time to move on. Having been pulled off in his last appearance for the Sounders (when Seattle was eliminated by the LA Galaxy in the Western Conference final), there were hints Montero was no longer the focal point of Sigi Schmid's attack. At 24 years old and hoping to work his way back into his national team, now was the time for Montero to leave. Undoubtedly, he's hoping a stint with Millonarios will vault him to Europe (a hope he spoke openly about at the end of last season).
Seattle gets return on their investment (their part of a rumored $4.5 million sale). They also open up a Designated Player spot, something a team with their resources can leverage better than most.
But they lose somebody who'd become one of the faces of the team. That's going to be the hard part.