There's no explaining this Chelsea team. The ups and downs are too extreme, too often. In the last month, they've lost to Corinthians, Queens Park Rangers, and Swansea (the last two at home) while beating Aston Villa and Southampton by a combined 13-1.
Today was more of the latter, though they got some help. Two own goals from Jon Walters staked the Blues to a 2-0 lead. Sprinkle in insurance  via Frank Lampard (from the spot) and Eden Hazard and Chelsea was back in the win column. Combined with Spurs' draw at Loftus Road, the 4-0 result vaulted the Blues back into third place.
The scoreline was deceiving, though. Chelsea weren't that good. Through most of the first half they looked the better team in talent but not in execution. The match was playing out as a game Stoke could steal via defensive mistake or a set piece.
But fortune went the other way, starting in first half stoppage time. Walters headed a cross into his own net to send Chelsea into halftime up 1-0. A second own goal in the 63rd minute and Lampard's 194th goal for Chelsea (second on the club's all-time list) two minutes later eliminated all doubt. Hazard's tally was pure icing.
It's the type of result that will obscure the fact Chelsea are still performing nowhere near their capabilities. People will see the lopsided score and make positive inferences, but it's unclear this team is making progress. They may be within four points of second place Manchester City, but Chelsea are still more third/fourth place battlers than title contenders.
Which, incidentally, is right where most predicted them to land at the beginning of the season.
Mid-week, I rolled out the trite Dr. Jerkll and Mr. Hide analog (though I used it incorrectly). It's cliché, but it's an apt shorthand for Chelsea's schizophrenia behavior, especially if you're trying to avoid too many mental illness metaphors.
You really can't predict which Chelsea team is going to show up. Today, the good one got three points at the Britannia.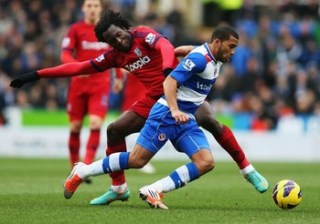 Eight minutes, three goals, three points for Reading
When QPR drew this morning, we talked about the importance of going for three at home, especially if you're fighting relegation. One point is nice, but at this juncture of the season, holding serve is not enough.
Through 80 minutes on Saturday, Reading weren't even in frame for a draw. Nineteenth and 69th minute goals from Romelu Lukaku gave West Brom a 2-0 lead at the Madejski Stadium. The Baggies were on their way to snapping a two-match losing streak.
Then came the onslaught. Jimmy Kebe broke through in the 82nd minute, with mid-week hero Adam Le Fondre equalizing from the spot two minutes later. Not content with the lesser comeback, Reading got a winner from Pavel Progrebnyak in stoppage time to claim their third win in 22 games.
With neither Aston Villa nor Wigan winning, the three points loom particularly large. Not only did the Royals vault out of the basement, they're now within three  of both the Villans and Latics. Plus, Brian McDermott's team holds the goal difference advantage on each.
The comeback underscores the importance of full points. QPR walked off the pitch at Loftus Road feeling good about their 0-0 with Tottenham, but after the result at Reading, Rangers are worse off than they were before the day's opening whistle.
Elsewhere in England
Aston Villa 0-1 Southampton – Ricky Lambert's first half penalty conversion holds up to move Saints into 15th place. Villa drops into the relegation zone. Make a list of the potential reasons you should replace a coach mid-stream then ask yourself whether Villa should move on from Paul Lambert. Given their recent managerial history, is easier said than done, but it's hard to see how, based on what he's done at Villa, Lambert's the man to keep them up.
Everton 0-0 Swansea – Swansea hasn't lost since a 1-0 at White Hart Lane on Dec. 16. In that respect, this is an understandable result for Everton, though for a team chasing a Champions League spot, this looks like points dropped.
Fulham 1-1 Wigan Athletic – A 71st minute Franco Di Santo goal gets the Latics a valuable road point, temporarily pulling them out of the drop. Fulham started all of Dimitar Berbatov, Mladen Petric and Bryan Ruiz but were unable to snare a crucial second goal before Martin Jol started changing things just after the hour.
Norwich City 0-0 Newcastle – Everything I said about Paul Lambert, above? Apply them to Alan Pardew. Newcastle snaps a three-match losing streak (in league) but are only two points above the drop.
Sunderland 3-0 West Ham United – It's the kind of result that makes you wonder if West Ham's hat a wall. You can point to the absence of midfielder Mohamed Diamé, but it takes more than one man's absence to explain conceding three times to Sunderland. Seb Larsson, Adam Johnson, and James McClean scored for a Black Cats side who've taken nine points from their last five games.